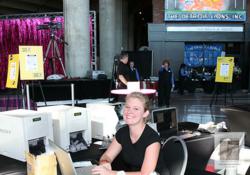 Professional Images Photography Social Media and Onsite Printing Software has what it takes.
San Antonio, TX (PRWEB) September 20, 2011
Social Media combined with Onsite Printing Photography is taking the Convention and Events Photography industry to another level.
At a recent event at Caesar's Palace Professional Images Photography was at work. The crowds were use to getting photos onsite but to get a thank you email welcoming to the conference and a photo digitally in minutes, well it was crazy. The guests were amazed at the ability to have the photo that was just taken and sent to their email. The files can be small size to the full resolution and the custom email is created before the event.
Social media a driving force to retaining, attracting and informing attendees, customers and anyone that branding is important.
Everyone was tweeting, face booking or forwarding the photos with the company logo. Today's meeting planners need a new and different service and professional images photography social media and onsite printing software has what it takes. After months of beta testing social media combined with onsite printing is strong and will be the dominate choice to spread a message, logo or brand.
As the fall convention gears up Professional Images Photography is already working with groups to help maximize their attendees retention. The goal to any successful event is to create an excitement that reflects the energy of the brand. One chance to make an impression is important and social media combined with onsite printing from professional images photography will make it happen. Convention Photography is will always be an important asset to this industry.
Conventions, trades-shows, NBA, MLB, NCAA, NFL, conferences and any other organization that want to spread their brand, message or special day will see a return on investment.
About Professional Images Photography:
Professional Images Photography is based in San Antonio, TX and travels nationwide, with offices in Washington, D.C., Houston, TX and Orlando, FL
###