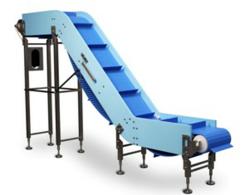 Muskegon, MI (PRWEB) September 07, 2011
Dynamic Conveyor Corporation, the leading manufacturer of reconfigurable modular conveyors, will unveil the new DynaClean conveyor at PackExpo 2011 in Las Vegas, September 26-28.
In business since 1991 in Muskegon, Michigan, Dynamic Conveyor has been a source of innovative custom conveyor systems for manufacturing. "We have been providing alternatives to traditional conveyor systems that cannot be modified without great expense. Our answer has been a line of custom modular plastic conveyors that allow for flexibility and sustainability at standard conveyor prices," says Jill Batka, president.
Dynamic Conveyor is bringing that same philosophy to the food processing and food packaging industries with the DynaClean food conveyor line. DynaClean conveyors are easy to clean and offer flexibility in configuration and reconfiguration not possible with traditional stainless steel conveyors. DynaClean conveyors are ideal for food, pharmaceutical and other applications where cleanliness and sanitation are required.
"We have been supplying our manufacturing customers with custom modular plastic conveyors that offer reconfiguration when their needs change" says Batka. "Over the past twenty years, custom modular plastic conveyors have become essential for companies who need to reconfigure production lines quickly. Many of these companies simply don't have a need for fixed length conveyors, but they do have a need to move and change quickly," explains Batka. "Now we've developed a similar system, a food conveyor, which will meet the needs of the food and food packaging industry." Offering a conveying solution that is sustainable and environmentally friendly, the DynaClean conveyor layout and configuration can be changed when food processing or packaging needs change.
The DynaClean food conveyor line is custom designed and built to meet NSF, FDA, USDA and BISCC standards. Conveyors can be designed, configured and reconfigured to include horizontal and multiple angle options such as 30°, 45° and 90°. Built from corrosion resistant, non-toxic, non-absorbent and temperature resistant materials, the DynaClean conveyor is easy and quick to clean and sanitize.
Be the first to see the new DynaClean conveyor by visiting Dynamic Conveyor in booth #2103 in the central hall at the Las Vegas Convention Center, visiting the website at http://www.DynamicConveyor.com or calling 800-640-6850 for an appointment.
###