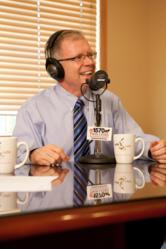 Small Business is the backbone of America
- Peter McClellan
Lakeville, MN (PRWEB) September 15, 2011
The Peter McClellan Show will now be available through internet radio at http://www.thinkon.biz. New radio shows will be posted daily and will include one-hour segments of McClellan as America's voice for small businesses — empowering them to be successful.
By clicking on the link provided, you will find The Peter McClellan Show homepage where each show is listed by date and guest. For example, each Friday "Mr. Sunshine" a.k.a. Jeff Hybiak, Portfolio Manager of Strategic Equity Management, gives his input on the stock market and the economy.
The radio show normally airs on Business Radio KYCR AM1570, 4-5 p.m. Monday through Friday, but now will be available any time of the day with just a click of a mouse. The show is also available as an App for iPhone and Droid.
Peter, Angus and his Clan bring good humor and wise counsel to help you succeed in the freedom-loving entrepreneurial spirit sweeping the nation. His guests (the Clan) are dynamic business people who inspire other business people. Angus is a character that Peter voices that represents his Scottish heritage and entertains listeners with his wit.
Peter is the owner of The 401k Latte Company, a financial planning firm committed to the pursuit of financial stability for clients using a strategy called Active Money Management. Peter is also the author of "Inheritance Tug of War Stories" about real-life issues of inheritance and family harmony. Call (952) 882-0400 for a free consultation and an excellent cup of coffee.
###