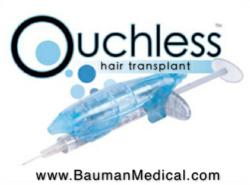 "The Ouchless Needle is the final ingredient in modern hair transplantation surgery that will serve to completely eliminate patient concerns about the issue of pain associated with the hair transplantation process."
Dr. Alan J. Bauman
Boca Raton, FL (PRWEB) September 01, 2011
A recently FDA-approved device originally created to eliminate pain associated with the use of needles and syringes for common dermal fillers and neurotoxin injections such as Botox®, Dysport®, Juvederm,® and Restylane® has now been adopted for first-time use by Dr. Alan J. Bauman, the nation's leading hair transplant surgeon, for use in his hair transplant procedures.
"The Ouchless Needle, made by BellaNovus, is the final ingredient in modern hair transplantation surgery that will serve to completely eliminate patient concerns about the issue of pain associated with the hair transplantation process," says Dr. Alan J. Bauman.
The Ouchless™ Needle, made by BellaNovus Development Company LLC, is a disposable syringe-attachable dispenser that delivers a precise stream of a numbing vapocoolant spray to the skin just ahead of the tip of the needle before the skin is pierced. With its innovative delivery system, this new medical technological device works to instantly reduce the pain associated with having injections - without the burden of freezing ice or time-consuming messy creams - and, according to clinical trials, minimizes post-injection numbness, swelling and bruising thereby providing patients a far superior treatment experience. It also speeds up the treatment process both for doctors, and patients on a busy schedule. Watch Dr. Bauman discuss the benefits of The Ouchless™ Needle.
Since establishing the Bauman Medical Group in 1997, Dr. Bauman has performed thousands of hair transplant procedures for patients around the world. In his more than 15-years of practice, Dr. Bauman has built an international reputation not only for his masterfully artistic hair transplant procedures, but equally as well for his unwavering commitment in the use of the most state-of-the-art technologies he has adapted and adopted in the performance of his procedures. As early as 1999, in an effort to address the issue of pain associated with hair transplant procedures, Dr. Bauman began using the computerized injection device, the CompuMed/The Wand to deliver local anesthesia into the skin. In 2002, Dr. Bauman was one of the nation's first hair transplant surgeons to begin to use the less-invasive FUE technique and more recently in 2008 became the first diplomate of the American Board of Hair Restoration Surgery to routinely utilize the mechanical no-scalpel, no-stitch NeoGraft device to more accurately and efficiently perform the procedure which eliminates the traditional strip-harvest and its tell-tale linear scarring. Dr. Bauman has implemented leading edge techniques such as these, as well as other cosmetic procedures, including Eyelash Transplantation and the use of Low Level Laser Therapy, placing him at the forefront of the medical industry and earning him national and international media recognition and clientele.
About Dr. Alan Bauman:
Alan J. Bauman, M.D., founder of Bauman Medical Group in Boca Raton, Florida, is a internationally renowned hair transplant surgeon who has been featured extensively in the national and international print and television media, such as Newsweek, The New York Times, Cosmo, Vogue, Allure, Men's Health, Today Show, The Early Show, Good Morning America, Extra, Access Hollywood, and Dateline NBC.
Dr. Bauman is recognized within the medical profession as top U.S. medical expert on the treatment of hair loss in men and women. A board-certified hair restoration surgeon, Dr. Bauman was the first to demonstrate the NeoGraft FUE method of hair transplantation at the International Society of Hair Restoration Surgery's Orlando Live Surgery Workshop in 2010. His practice is divided equally between male and female patients, and Dr. Bauman provides state-of-the-art diagnostic procedures and a multi-therapy approach to the medically treatable condition of hair loss. Dr. Bauman is a member and often a featured speaker at the American Academy of Anti-Aging Medicine and the International Society of Hair Restoration Surgery annual scientific meetings.
Editors Note: Dr. Bauman is available for expert medical media commentary. To arrange for an interview at his 5,000 square foot state-of-the-art medical clinic, or plan a phone, or live in-studio interview, call media relations contact: Janet Shoup at 828-707-8971; janet(at)firm19(dot)com.
###