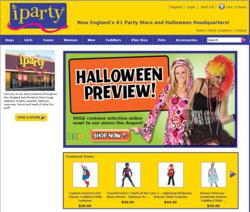 The structure of the meetings with our UniteU Consultant gave us the guidance that we needed, and we felt well supported
(PRWEB) September 01, 2011
UniteU Technologies, a leading provider of global e-commerce solutions, announced it has launched an online store for iParty. UniteU is providing a full range of e-commerce services to iParty on its Connected Commerce platform, including storefront development, transaction processing, payment services, and more. iParty is an award-winning retailer and New England's largest supplier of party supplies and costumes, with more than 1000 employees and over 50 retail locations in New England and Florida.
iParty needed a cutting edge solution that would support their aggressive growth objectives for the online channel and leverage their existing retail store inventories. "The main concern, from the get-go was a fast turn-around time. We wanted to be up and running quickly. The structure of the meetings with our UniteU Consultant gave us the guidance that we needed, and we felt well supported" says Deborah Sherman, Manager of Design and Web Services at iParty. In order to meet their timeline, iParty tackled the upgrade project by dividing up the required tasks among a number of teams. One team was focused on design, while another team was focusing on populating product catalog data and yet another team was working on the technical integration. "This helped us to get the site launched in a more efficient manner. They were a real pleasure to work with." Says Chris Foti of UniteU's consulting team.
UniteU's solution provides rich product presentation, improved shopping navigation, and a more personalized online buying experience. By moving to the UniteU solution, iParty gained superior personalization and merchandising features that are built into the on-demand ecommerce solution. iParty Web Managers have more control over the way shoppers interact with the web store and make it easier for shoppers to research relevant products related to a specific party themes.
"With more than 10 years of e-commerce experience, UniteU has earned the reputation as a leader in helping specialty retailer maximize their online revenue," said Eric Tyler UniteU's Vice President of Operations. "Once we met with the iParty team and learned of their requirements, we were very excited to put our technology and expertise to work for them."
The iParty e-store is running on the UniteU Connected Commerce solution, a fully-managed on-demand system specifically designed to drive online traffic and increase revenue. With UniteU Connected Commerce, retailers have everything they need to run a global online e-store, from merchandising, pricing, order management, payment processing, customer service and PCI compliance. UniteU's powerful solution is capable of creating a global e-commerce presence for specialty retailers in any industry.
About iParty: Headquartered in Dedham, Massachusetts, iParty Corp. is a party goods retailer that operates more than 50 iParty retail stores in New England and Florida and an Internet site (http://www.iparty.com) for costume and related goods. iParty's aim is to make throwing a successful event both stress-free and fun. With an extensive assortment of party supplies and costumes in our stores and available at our online store, iParty offers consumers a sophisticated, yet fun and easy-to-use, resource to help them customize any party, including birthday bashes, graduation parties, summer barbecues and, of course, Halloween and other seasonal holidays. In addition to offering an extensive assortment of costume and related merchandise, iParty's internet site focuses on increasing customer visits to our retail stores by highlighting the ever changing store product assortment for all occasions and seasons and featuring sales flyers, enter-to-win contests, monthly coupons and ideas and themes offering consumers an easy and fun approach to any party. iParty aims to offer reliable, time-tested knowledge of party-perfect trends, and superior customer service to ensure convenient and comprehensive merchandise selections for every occasion. Please visit our site at http://www.iparty.com.
About UniteU: UniteU Technologies, Inc. is a leading Software-as-a-Service provider of e-commerce solutions. The company's e-commerce solutions are designed to help retailers of all sizes, maximize online revenues as well as reduce the costs and risks of running an e-commerce operation. The UniteU Connected Commerce platform is PCI compliant and scales to meet the ever-changing needs of multi-channel retailers; supporting custom designs, integration, rich media, advanced promotions, multiple payment and shipping options and intuitive search and navigation capabilities. UniteU provides premier managed hosting, web analytics, in addition to e-business consulting services that drive traffic, conversions and retention. Go to http://www.uniteu.com to learn more.
Media contact: Kevin Oliver, http://www.uniteu.com
###