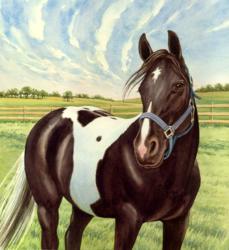 "What a wonderful thing for a girl to find a special horse and, better yet, rescue him and feed him with care and love."
-Laura Chester, editor, Heartbeat for Horses
Minneapols, MN (PRWEB) September 05, 2011
On Sunday afternoon, September 11, author Juanita Havill will read from and sign her nationally reviewed children's picture book, CALL THE HORSE LUCKY, published by The Gryphon Press.
This new children's picture book tells the story of how a young girl rescues an abandoned horse. Along the way, she learns what it takes to successfully care for the horse and provide for its future, actions that require the intervention of a variety of rescuers. Call the Horse Lucky, by author Juanita Havill, is beautifully told and illustrated BY and goes to the heart of horse lovers and will satisfy experts in the field of horse rescue.
Pat Frederick, DVM, writes, "Call the Horse Lucky is a gift to all readers. As an equine veterinarian for many years and dedicated to teaching correct animal husbandry I applaud this book. The story, the husbandry discussed, the solutions to a problem, the economic values and the information in the epilogue are all really correct and to the point in my opinion. The illustrations/paintings are an additional gift and I felt as if the people were all someone I had met in my practice. Well done all of you."
The Gryphon Press publishes children's picture books about animal issues in beautiful books that bring animal well-being to the forefront.
###