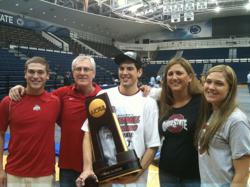 "We never really let the kids beat us," said Steve, "so when they finally did, they really earned it and knew the value of it."
Cincinnati, OH (PRWEB) September 01, 2011
Many parents fantasize about their children fulfilling their own dreams of athletic success. What makes the Kehoe family of North Bend, Ohio special is that Steve and Amy Kehoe succeeded.
The Kehoes have a new set of trophies to place on the family room mantel: Steven and Bryn Kehoe are the first sibling duo in NCAA history to achieve NCAA champion status in volleyball.
Steven Kehoe, Jr., 23, led the Ohio State University men's volleyball team win the Division I NCAA championship this summer. Voted Most Outstanding Player of the university's first-ever national championship, the third-year starter is also 2011 OSU Big 10 Medal of Honor winner for athletic and academic achievement and Ohio State Male Athlete of the Year, the latter a first-ever for an OSU volleyball player.
According to the OSU website, Kehoe started at setter in all 32 matches this season. A fifth-year senior, he ranked fifth nationally with an 11.56 assists per set average. He was named first team Midwestern Intercollegiate Volleyball Association All-Conference and was the MIVA Player of the Year. He was also named to the NCAA All-Tournament Team. He's set to play professional volleyball in Tampere, Finland.
Steven's sister, Bryn, 25, was a three-time All-American in volleyball at Stanford University, and as a freshman setter led her 2004 Division I team to a national NCAA championship. She also plays professional volleyball-- in Neuchatel, Switzerland.
While the Kehoes aren't the only sibling duo to achieve NCAA champion status in the same sport, they're part of an elite group.
According to Mike Sondheimer, associate athletic director-academic admissions at UCLA and college sports researcher in basketball and volleyball, the only three other brother-sister sibling duos that he knows of who achieved Division I NCAA champion status in the same sport are: Dave and Ann Meyers at UCLA in basketball in the 1970s; Jackie Joyner-Kersee at UCLA and Al Joyner at Arkansas State in track and field in the 1980s; and Hayley at Auburn and Aaron Piersol at Texas in swimming in the 2000s.
Steven Kehoe's work ethic is commendable, said OSU men's assistant volleyball coach Sean Byron. "Steven is good at grinding out the hours," said Byron. "He had a conflict for the first half hour of practice every day, so he'd stay for a half hour on his own, setting balls every day. It takes about 10,000 repetitions to become expert in any sport, and we estimated that just this year, Steven set between 40,000 and 50,000 balls. Anyone who works as hard as he did will eventually receive something. Someone that motivated and determined has success down the line somewhere."
Steve Sr., founder and president of Kehoe Financial Advisors in Cincinnati, Ohio, operates his practice under the motto, Listen. Educate. Guide. That motto could well be the guide he and Amy used to raise their children. Steve was a setter at Ball State University, and Amy was an outside hitter at Western Michigan University. She was recently inducted into the WMU Hall of Fame. The family admits to having difficulty playing Scrabble together, yet tries to keep athletic competition separate from family life.
"Amy and I continued to play competitively after college, and dragged the kids to the gym when they were young," said the elder Kehoe. "We made sure the kids had volleyballs in their playpens."
Steve joked that the difference between winners and losers is not that one person wants to win more, but that the winner hates losing more. As their children grew up, they played all sports, but Steven and Bryn settled on volleyball because they loved its team orientation.
"Both my wife and I are very good about the technical and fundamental aspects of the game," said Kehoe. "We taught them very good technique, so they didn't acquire bad habits. We tossed a lot of volleyballs to them when they were growing up and both of us coached their teams when they were young."
Where the elder Kehoes may have differed from most of us in their approach to bringing up athletes is that unlike some parents, who downgrade their skills when playing with children, the parental Kehoes always played to win. "We never really let the kids beat us," said Steve, "so when they finally did, they really earned it and knew the value of it."
They also praised their children only when praise was earned. "If we thought they did well, we told them," said Steve. "But we used the 'Oreo' method of critiquing behavior on the court. We sandwiched the bad news between two good things. We always told them if we had a few 'observations' after the game-- if they were interested-- and they were usually interested as they got older."
Amy Kehoe said she and Steve also instilled in their children a desire for life-long learning, humility and the importance of giving back. Both Steven and Bryn are spending the summer involved in youth volleyball camps all over the nation.
"We've always told our children that you were never too good to learn something," said Amy. "My father used to tell me that you can always be content, but never satisfied. You're never going to know it all and you're never too old to learn."
Another Kehoe family maxim is to check your ego at the door. "We're all competitive by nature and love to compete," she said. "But at the end of the day, when we sit down for dinner, we are a family. I think that's one of the reasons we've stayed close as a family. These were the core principles, whether you played athletics or not."
All three of the Kehoe children are very internally motivated, said Steve Kehoe. Of course, they are also genetically blessed with excellent athleticism.
"The kids usually did over and above what we expected them to do all along the way," said Steve. "They trained well, took care of bodies, and went the extra mile. This was not something we told them to do; they did it on their own."
The Kehoe family's competitiveness stays on the court, however; siblings Bryn and Seth, 22, are Steven's biggest fans. "They all support each other, and that is pretty neat," said the elder Kehoe. "They are each other's biggest cheerleaders."
Son Seth, while he enjoys volleyball, has grown up in a couple of pretty long shadows. He likes to claim that he has successfully broken the "family volleyball curse." A good athlete and avid golfer, he is a senior at University of Cincinnati and plans on attending law school. He'll study European law at The Hague in the Netherlands this coming quarter.
Steve and Amy admit to leading pretty disciplined lives. They lead by example, and their children have absorbed their habits. "I'm constantly learning, and read on a daily basis," admitted the elder Kehoe, "including business periodicals. I also attend workshops on continuing education; everyone in our office tends to do that same thing. We're all mostly Type As—at home as well as at work."
Steve Kehoe is founder and president of Kehoe Financial Advisors, an independent financial services firm committed to helping clients develop and implement financial strategies to help meet retirement income goals, estate and business planning objectives, business continuation and succession planning.
The practice, which celebrates its 30th anniversary in 2012, was named "Best Personal Wealth Managers" by Cincinnati Magazine for the last four years. For more information about Kehoe Financial Advisors, call (513) 481-8555 or visit http://www.kehoe-financial.com.
###