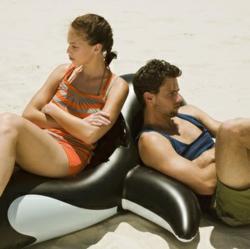 If a marriage is already in difficulty, a holiday can often become a tension time bomb
London, UK (PRWEB UK) 5 September 2011
UndercoverLovers.com, the UK's biggest online dating destination for cheating spouses, has seen a 150% increase in new sign ups in the past week, rising from a normal average of 3,500 new members per week to over 8,900 in the last 7 days. Of these a large majority (69%) have cited an unhappy holiday as their reason for joining the site.
Site spokesperson Emily Pope comments: 'Thousands of married couples will have headed for the sun over the past 3 months hoping for some respite from the pressures of day-to-day life. But it seems that in many cases, holidays have brought marital tensions to a head. The sudden increase in people joining the site has taken us by surprise and we've had to take on extra temporary staff to deal with the deluge.'
UndercoverLovers.com's resident relationship expert, Amélie Duval, explains: 'Expectations of a holiday are often blown out of all proportion. If a marriage is already in difficulty, a holiday can often become a tension time bomb, as couples are suddenly thrown together in unfamiliar surroundings for weeks on end. For many of our members, heated holiday rows or a lack of amorous attention in the holiday bed, can be the impetus for them to seek gratification or emotional fulfilment elsewhere'.
Family law firms are used to seeing a surge of divorce applications at the end of August. As Amanda Quinn, a lawyer at Family Law International says 'We always see an significant increase in divorce enquiries at this time of the year. It's mostly women who file for divorce after the summer holidays. If the marriage is on rocky ground, then spending a huge amount of time together on the longed for summer break can exacerbate rather than alleviate any underlying marital tensions, and in many cases may be the final straw.'
About UndercoverLovers.com
Undercover Lovers is unique in that it is the UK's only married dating service run by women. The site currently has over 540,000 members of whom 48% are women and 52% men. The typical member is a 30 or 40 something professional earning significantly more than the average wage and has been married 5+ years.
###