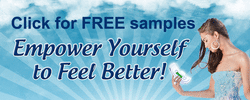 Phoenix, AZ (PRWEB) September 15, 2011
Empower Pads is committed to being part of the solution for increased feminine comfort and is a proud sponsor of IC Awareness Month. Empower Pads embraces breakthrough technology to help women who suffer discomfort.
Here's what Jill Osborne, president of ICN has to say about Empower Pads: "These new menstrual pads caught my attention and, it turns out, the manufacturer has had positive reviews of their products reducing discomfort. They offer all of the traditional pad sizes and the pad quality is excellent."
Valerie Rodriguez, public relations for Empower Pads says: "We are honored to support and sponsor IC Awareness Month. Empower Pads is a consumer oriented company. Our motto, 'Empower yourself to feel better,' means that our connection doesn't end with a sale. Women often have not been heard in this market. We strive to listen intently and we are passionate about changing the status quo with Empower Pads!"
According to http://www.icawareness.org, as many as 12 million people, of all ages, suffer from incurable bladder pain that can be associated with Interstitial Cystitis. To show support for IC Awareness Month, Empower Pads is offering the following, no risk, special trial: Receive 10 Day pads, 8 Night pads, and 20 Pantiliners, free (S&H - $8.99).
To take advantage of the limited time offer go to http://www.empowerpads.com or call 888-295-2492.
Empower Pads is pioneering a breakthrough sanitary napkin designed with negative ion technology for maximum comfort. Interstitial Cystitis Network (ICN) is the premiere, web based support for millions who suffer from bladder and female discomfort.
###