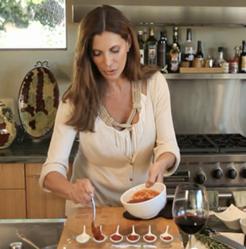 "Lizanne's videos make it really fun and easy to put together a snack." - Lauren Alford, Diet.com Director of Business Development
Brookline, MA (PRWEB) September 07, 2011
Diet.com, one of the web's leading resources for diet, fitness, and nutrition content and tools, has announced today their joint partnership with thinkThin in launching a series of syndicated how-to snack videos across Diet.com's online channels.
The 10-video series "thinkThin presents Lizanne Naturally" features portable nutrition entrepreneur Lizanne Falsetto - CEO of thinkThin's all-natural protein bars. Falsetto, mother of two, teaches viewers how to create some of her favorite homemade snacks in just minutes. The show focuses on portable nutrition and features everything from healthy breakfast parfaits to high protein gluten-free snacks for the kids. The entire series can be found bi-weekly on both Diet.com (http://www.diet.com) and Diet.com's acclaimed YouTube channel, diethealth (http://www.youtube.com/diethealth), from July 27-Dec 5.
Aiming to share a passion for food and to demonstrate simple, easy recipes from a platform of weight wellness, Falsetto was drawn to the health-conscious audience of the diethealth channel.
"Partnering with Diet.com just made sense," Falsetto says. "The Lizanne Naturally series and thinkThin's products are all about living life to the fullest through good nutrition and a vibrant, varied lifestyle. Through their videos, Diet.com has always been an advocate for that same mission."
Excitement for the partnership was echoed by the Diet.com camp.
"It's so important to not only put your household budget to best use by creating your own meals at home, but also to make sure that what you are feeding yourself and your family is nutritious," says Lauren Alford, Diet.com's Director of Business Development. "Lizanne's videos make it really fun and easy to put together a snack. And so far, our viewers have been really pleased with her fresh take on cooking."
The series' first video, a Gluten Free Turkey Meatball Recipe, can be seen here: http://www.youtube.com/watch?v=3jpYIdmNfFU
Diet.com's diethealth YouTube channel was founded in 2006 and their videos have accumulated over 85 million views to date. While Diet.com's main specialty is how-to fitness videos (featuring different expert fitness trainers and long-time video host Sarah Dussault), the thinkThin presents Lizanne Naturally series will become an addition to Diet.com's library of recipe and diet videos.
About Diet.com:
Diet.com is a multifaceted health and wellness organization that provides quality information and cutting edge tools and services to consumers and businesses alike. Since its founding, Diet.com has been a valuable online resource for dieters and those seeking information on living a healthy lifestyle. As one of the web's leading resources for diet, nutrition, and fitness content and tools, Diet.com has created a platform where consumers are able to set and track diet and fitness goals, browse over 1,000 healthy recipes, learn new exercises, and interact with others in the thriving Diet.com online community. The diethealth YouTube channel (http://www.youtube.com/diethealth) has a library of close to 500 videos, over 107,000 subscribers, and has received upwards of 86 million views. For any inquiries please contact Lauren Alford, Director of Business Development, at LaurenA@diet.com or 919-616-7532.
About thinkThin®:
thinkThin® has created a new way to think about nutrition through a focus on natural ingredients that support overall health and weight wellness. All thinkThin® products are based on four key nutritional principles: high protein, no sugar, low sugar and gluten free. The thinkThin® product family consists of thinkThin® Protein Bars to satisfy the on-the-go, active lifestyle; thinkThin® Crunch and thinkThin® Crunch Fruit & Nut; and thinkThin® Bites, a 100-calorie snack. For more information on deliciously natural nutrition, please visit http://www.thinkproducts.com.
# # #