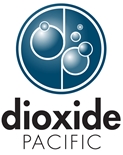 An environmentally safe biocide for oil and gas frac and produce waters
Henderson, NV (PRWEB) September 07, 2011
Dioxide Pacific Inc., the Henderson Nevada based manufacturer and supplier of disinfection technologies is now accepting inquires and orders for their new line of high capacity single chemical electrochemical chlorine dioxide generators. Capacities run from units that produce less than 100 lbs. ClO2/ day to units that will generate more than 1000 lbs./ day.
Oil and gas producers are discovering the benefits gained through the use of environmentally safe chlorine dioxide as the biocide of choice to replace short lived chlorine and hazardous non-oxidizing biocides such as glutaraldehyde or isothiazolone. Chlorine dioxide is beneficial in that it breaks down biofilms, is effective against anaerobic organisms and degrades to two salts, chlorite and chlorate; in the presence of sodium, the final form is sodium chloride, making ClO2 the effective, yet safe biocidal option.
There are a number of reasons why the patented Oximax electrochemical process is superior to the historical multi-chem processes, these include:

Only one precursor chemical to haul out to the field, reduces storage and handling needs
No reactive chemistry; no acid required, no chlorine either
New cell design delivers a high NaClO2 conversion rate, nearing 90%; this is much improved vs. existing technologies, dramatically reducing the consumption of sodium chlorite
Also due to the updated cell design, a 25% reduction in electrical consumption
All electronic components are mounted in rugged harsh environment cabinets
Installation in mobile units available
New single chemical process delivers a molecule that is markedly more effective vs. H2S than previous ClO2 technologies
There is much more to learn about this molecule, the new method of generation and why this is such an advantage for oil and gas producers. For additional information see http://www.dioxide.com or contact Steve Eberhard at 702-938-6418.
###