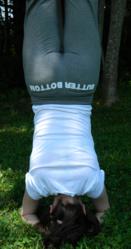 My daughter and niece LOVE their ButterBottoms, the yoga pants AND the onesies.
Charlottesville, VA (PRWEB) September 07, 2011
ButterBottom's new line of Active Lounge pants launched on August 1, 2011.
The progression from its infant clothing line to a women's line culminates in ButterBottom's take on the yoga pants.
According to a Yoga Journal 2008 study, Americans spent $5.7 billion a year on yoga products, classes and gear. This is a nearly 87 percent increase from 2004. Additionally, the study also cites over 15 million active participants in Yoga exercises.
"A number of mothers who purchased the ButterBottom onesies loved the cow and logo so much, they asked if we could come up with something for them. Given the strong appeal of the brand and the continued increase in Yoga products and classes, creating ButterBottom Active Lounge pants for Yoga was a no brainer," stated Richard Monroe, President of ButterBottom LLC. Mr. Monroe added, "Furthermore, while the high end consumer is well served, we feel there is a real sweet spot for the company for the mid-range shopper. We are aiming to serve the woman that wants something fun and stylish, but most important - looks good and feels great without having to spend $75 on a pair of pants." The company plans to expand the line to include stretch pants, shorts and hooded sweatshirt for men.
The pants are a blend of 87 percent cotton and 13 percent elastic and come in Women's Small, Medium and Large. Retailing for $32, the ButterBottom Active Lounge pants come in grey and pink and are available exclusively at http://www.butter-bottom.com. The company offers a 100 percent money back guarantee on all returns.
ButterBottom LLC was founded in 2010 by Richard Monroe. After a nearly ten years on Wall St., Richard stayed at home with his two sons. The ButterBottom line grew out of a children's story he wrote for his sons about the largely fictional, yet somewhat autobiographical ButterBottom family.
# # #