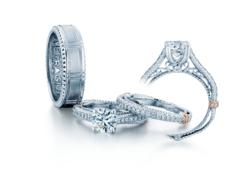 "Without our loyal customers, we would not be the company we are today."
New York, NY (PRWEB) September 01, 2011
In an effort to further fuel their fan base, Verragio has redesigned the company website to reflect the newest in engagement ring styling. Featuring a vibrant new color scheme and new product selections including additions to the Venetian, Insignia and Paradiso collections of engagement rings, the updated Verragio.com is intended to be the closest thing possible to actually seeing the product in a retail jewelry store.
To celebrate the relaunch of Verragio.com, the engagement ring designer is giving fans a new opportunity to win a Verragio ring. "It's nice to be able to give back to our fans," says Barry Verragio. "Without our loyal customers, we would not be the company we are today."
The new Verragio.com not only features the newest in Verragio styles, but also focuses on suggesting similar items, including alternate engagement ring choices, matching wedding bands, and even men's wedding bands. The relaunch of Verragio.com marks the first time that that not only a Verragio men's band is suggested for each individual engagement ring, but also the first time Verragio's new men's collection is advertised to the public.
In addition to enhanced product features, Verragio has also redesigned the Store Locator portion of the site, further highlighting Verragio Premier Boutique and Boutique stores for the consumers' convenience. The process of finding a Verragio retailer has been so streamlined that you can now locate a store, and an engagement ring, from within any page in the site.
About Verragio:
Verragio specializes in engagement rings and wedding bands of the highest quality and beauty. Available in platinum and gold, Verragio offers designer engagement rings, wedding bands, men's wedding bands and eternity bands that can be seen only in carefully selected retail establishments. Verragio has been featured in fashion publications such as InStyle, Elle, Marie Claire, Cosmopolitan and W Magazine.
###