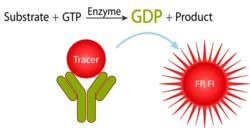 Madison, WI (PRWEB) September 01, 2011
Researchers at the University of North Carolina recently used BellBrook Labs' Transcreener GDP Assay to screen for molecules that inhibit ARFGAPs, an important class of GTPase regulatory proteins with links to breast cancer, Alzheimer's disease and autism. The study, which was published in the August issue of the Journal of Biomolecular Screening, lays the foundation for elucidating the role of ARFGAPs in vesicle formation, cell adhesion, and cell migration and for exploring their potential as drug targets.
Enzymes that hydrolyze GTP, known as GTPases, serve as molecular switches in diverse cellular processes ranging from neurotransmission to cell motility. In many cases such as the Ras superfamily and the Gα proteins associated with GPCRs, the GTP-bound form of a GTPase protein activates downstream pathways and becomes inactive when the GTP is hydrolyzed to GDP. The rate of GTP hydrolysis - thus the timing of the switch - is often controlled by GTPase activating proteins, or GAPs. Though small molecule inhibitors of GAPs would be very useful for probing their roles in diseases and perhaps as drug scaffolds, the difficulty in detecting GAP activity in vitro has prevented large scale screening efforts. In the Journal of Biomolecular Screening study, researchers led by Wei Sun in Dr. Qisheng Zhang's laboratory in the Division of Medicinal Chemistry and Natural Products, University of North Carolina, Chapel Hill, used BellBrook Labs' Transcreener GDP Assay as the basis of a high throughput screening assay for ARFGAPs, a class of GAPs with links to diverse diseases including breast cancer and Alzheimer's disease.
Like the other Transcreener assays, the Transcreener GDP assay relies on highly specific antibodies against nucleotides coupled with homogenous fluorescent detection methods. Prior to its introduction by BellBrook in 2008, phosphate detection was the most common method for measuring GTPase activity. However the ubiquitous presence of phosphate in biological samples resulted in high backgrounds and numerous false positives in HTS applications. The UNC investigators showed that the Transcreener GDP assay provided very good signals for detection of three ARFGAPs under conditions suitable for inhibitor screening and that the kinetics were consistent with published reports. They went on to perform a pilot screen of 1,280 compounds with ARFGAP1 which yielded a 0.31% hit rate and 0.98 correlation between parallel runs. This study clearly establishes the utility of the Transcreener GDP Assay as a robust tool to screen for small molecule inhibitors of ARFGAPs and strengthens BellBrook's 2009 study on its use for detecting the GAP activity of Regulator of G Protein Signaling proteins.
About BellBrook Labs. BellBrook Labs, LLC develops detection reagents and microfluidic devices that accelerate the discovery of more effective therapies for cancer and other debilitating diseases. Transcreener® is a patented high throughput screening assay platform that was introduced in 2005 and is used to identify inhibitors for kinases and other types of protein drug targets. The iuvo™ Microconduit Array technology is a line of unique microscale devices for miniaturization and automation of advanced cell models that are more representative of human physiology. Visit BellBrook's website for more information.
###