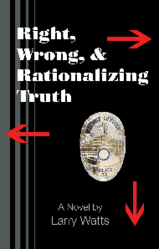 This insider's view of police union workings reflects the author's 40-plus years in the law enforcement community.
Smithville, TX (PRWEB) September 01, 2011
Becoming a police officer is the most fulfilling decision Chris Martin ever made, and he's overjoyed to join the Austin Police Department. Little does he realize that another decision he makes – this one while he's on the job – will have life-changing consequences in this new novel by a law enforcement professional. Responding to an early morning burglar alarm, Chris finds himself attacked by a black man who pulls out a gun. In a matter of moments, he's firing his own, killing the burglar. There's just one problem: Authorities can't find the other man's gun, and now Chris faces a legal battle and losing his job.
Right, Wrong, & Rationalizing Truth captures the conflicts that arise for police officers and others whose lives are affected by split-second decisions in the world of law enforcement. The NAACP and black ministers are calling for Chris' head in the racially-charged case, and even the police chief seems convinced of his guilt. As his case drags on, even Chris begins to question the events of that fateful day. This insider's view of police union workings reflects the author's 40-plus years in the law enforcement community, both as a police officer and working for the labor movement helping hundreds of Texas peace officers called on to make extraordinary decisions in moments.
This is the first published full-length novel for author Larry Watts, who served as a police officer in Texas for more than 20 years and then in the police labor movement for 20 years. He retired after serving as chief labor relations officer in a major Texas city. Watts, raised in a small Oklahoma town, earned a bachelor's degree in labor studies from Antioch University and finished the Harvard Trade Union Program at Harvard University's School of Business. He has written numerous trade magazine articles.
For more information, visit http://www.larrywatts.net
RIGHT, WRONG, & RATIONALIZING TRUTH
Larry Watts
Dog Ear Publishing
ISBN: 978-145750-391-7 192 pages $16.95 US
Available at http://www.larrywatts.net, Ingram, Amazon.com, Barnes & Noble
and fine bookstores everywhere
About Dog Ear Publishing, LLC
Dog Ear Publishing offers completely customized self-publishing services for independent authors. We provide cost-effective, fast, and highly profitable services to publish and distribute independently published books. Our book publishing and distribution services reach worldwide. Dog Ear authors retain all rights and complete creative control throughout the entire self-publishing process. Self-publishing services are available globally at http://www.dogearpublishing.net and from our offices in Indianapolis.
Dog Ear Publishing – self-publishing that actually makes sense.
###