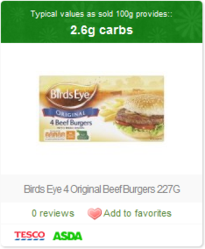 London (PRWEB UK) 7 September 2011
CarbGenie has analysed over 30,000 foods from Tesco and Asda for their nutritional content. Products from Sainsburys, Waitrose and other supermarket chains will be added in the coming weeks.
The site allows an educated decision on food and price - consumers can quickly find low carb food and at the same time discover which supermarket has the lowest price.
CarbGenie highlights the carb content of foods using a traffic light system, making it easy to analyse food at a glance.
Low Carbohydrate diets are experiencing a resurgence thanks to best selling books such as "Why We Get Fat and What to Do About it" and "The Diet Delusion" by award winning science journalist Gary Taubes. This is proven by over 1.8 million carbohydrate related Google searches each month in the UK alone.
CarbGenie was created by Scott Bowler, a low carb dieter and internet entrepreneur with over 10 years experience building commercial websites and applications.
Visit CarbGenie: http://www.carbgenie.com
###