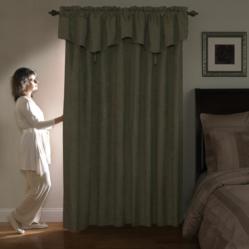 New York, NY (PRWEB) September 30, 2011
Ellery Homestyles, a leading home fashions supplier, has been selected by the National Sleep Foundation to develop window curtains that help consumers improve their quality of sleep. SoundAsleep's room darkening technology reduces penetrating light which offers a key component necessary for a better night's sleep…"darkness".
"Light can interfere with your sleep cycles by signaling your brain that you should be awake; so creating a dark bedroom is one of the most practical ways to reap the benefits of sleep," says David Cloud, CEO of the National Sleep Foundation. "NSF is excited to be working with Ellery Homestyles to provide sleep health information with quality products that can improve the sleep environment."
SoundAsleep Room Darkening Curtains come in a versatile, woven chenille textured fabric which coordinates with any bedroom décor. They are available in 10 fashion colors, come in an assortment of lengths and are easy care/machine washable.
As an added bonus, the SoundAsleep curtains come with a copy of the National Sleep Foundation educational brochure "Controlling Light for Better Sleep."
SoundAsleep Room Darkening Curtains can currently be purchased at Amazon.com. Visit the SoundAsleep Curtains Facebook page and Like us to enter the Sleep Better and Win! Sweepstakes with a $1,500 Amazon gift card Grand Prize. More information about the curtains is also available at SoundAsleepCurtains.com.
About Ellery Homestyles
Ellery Homestyles is a leading supplier of branded and private label home-fashion products to major retailers – offering curtains, bedding, throws and specialty products. Our proprietary brands deliver innovation in fashion, function and design and include Eclipse™ - the voice of authority for energy-saving, noise-reducing, blackout curtains; Curtainfresh™ - innovative curtains with odor-neutralizing technology developed in partnership with Church & Dwight, maker of Arm & Hammer®; SoundAsleep™ room-darkening curtains, The Official Curtain of the National Sleep Foundation; ComfortTech™ - the only blankets constructed with premium 3M™ Thinsulate™ Insulation, providing luxurious style, lightweight comfort and superior warmth; VUE™ – the home fashion brand that presents Ellery's "point of view" on fashion trends and design, Waverly® - the oldest continuously advertised home fashions brand in America recognized by consumers for its distinctive traditional looks and Historic Charleston Collection™ - the distinctive home fashions brand that is steeped in historic Charleston's decorative arts culture. Ellery is a global company headquartered in New York City with a 375M square foot distribution center in North Carolina and offices in China, India and Pakistan. Please visit http://www.elleryhomestyles.com for more information.
# # #