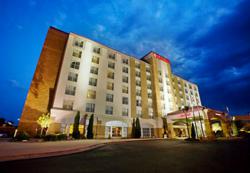 "The response was tremendous," said Ben Wurster, program chairman. "We didn't think we'd ever be turning people away."
Pueblo, Colorado (PRWEB) September 19, 2011
The Marriott Pueblo and Pueblo Trout Unlimited have teamed up for the 2012 2nd Annual Frostbite Fish-Off, which will be held January 20-22, 2012 on the banks of the Arkansas River in Pueblo, just below the dam.
Last year, nearly 50 anglers from throughout the state and nation came to Pueblo, Colorado for the 1st Frostbite Fish-Off, sponsored by the Southern Colorado Greenback Chapter of Trout Unlimited.
"The response was tremendous," said Ben Wurster, program chairman. "We didn't think we'd ever be turning people away."
This years catch and release fishing contest will be held Saturday, January 21, 2012 upstream of the Pueblo Boulevard Bridge towards the damn, marked by "beats" leading to the reach of the Arkansas River.
Headquarters for ceremonies and events associated with the 2nd Annual Frostbite Fish-Off will be held in the Fortino Ballroom of Pueblo Community College located at 900 West Orman Avenue; Pueblo, CO 81004.
The Marriott Pueblo is located downtown, and within walking distance to the Pueblo Riverwalk. We encourage individuals to make their reservations early, as rooms for this event may sell out.
Book your room online and receive a special rate by clicking here or the link below. In addition, guests may also receive the group rate by calling our Central Reservations line at 866-706-7815 and reserving rooms under the "Frostbite Fish-Off" group block; a link to register for the tournament is also provided via the webpage below.
http://cwp.marriott.com/pubdt/frostbitefishoff/
Please call Jessica Harding, Sales Manager for the Marriott Pueblo, at 719-296-3081 with any questions.
About the Marriott Pueblo:
Marriott Pueblo is located in the heart of downtown Pueblo, Colorado. Near the historic Union Avenue District, home to antique shops, local restaurants and minutes from the famous Walking Stick golf course, this full-service hotel offers excellent guest service unlike any other hotel in Pueblo. This 163 room hotel is connected to the Pueblo Convention Center and has 1,750 sq. ft. of meeting space. In addition to room service, on-site restaurant Charlie B's offers the best in Southwestern dishes. To learn more about the Marriott Pueblo, visit http://www.marriott.com/hotels/travel/pubdt-pueblo-marriott/ or find them on Facebook/MarriottPueblo and Twitter.com/MarriottPueblo.
# # #