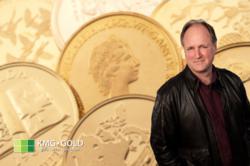 This is a great opportunity for Calgary consumers to make the most money for their gold
Calgary, AB (PRWEB) September 08, 2011
KMG Gold is pleased to announce that it has acquired control of CalgaryGoldBuyer.ca and that the company will now operate as a wholly owned subsidiary of KMG Gold.
This acquisition is part of KMG Gold's long range strategy to acquire similar operations in all major markets in Canada and establish the first truly national gold buying operation.
As a secondary gold and silver refinery, KMG Gold is able to pay the highest documented prices in Canada for unwanted jewellery and recycled precious metals like silver and platinum.
In the Calgary gold buyer market, the knowledgeable sellers and the professionals have always recognized the benefits of dealing directly with the KMG Gold refinery and cutting out the middleman.
Now that same opportunity to deal directly and get top dollar is available to every seller of unwanted jewellery and other precious metals in Calgary. "This is a great opportunity for Calgary consumers to make the most money for their gold," says Gupton.
Chances are that no matter who Calgary Gold jewellery and other precious metals are sold to, it all eventually ends up at the KMG Gold refinery, which begs the question, "Why line someone else's pockets when you can deal directly with the refinery?"
Gupton and partner, Karen Handford founded KMG Gold Recycling in 2007, hence the moniker KMG, and incorporated as KMG Environmental in 2010. KMG is a family owned and operated Canadian business with its' head office in Winnipeg, furnaces in Vancouver, with 12 SecureShip™ shipping outlet locations across Canada to recycle gold, silver, platinum, palladium, and rhodium. KMG is dedicated to giving its' customers the highest return and most money for precious metals.
To help educate consumers, KMG's website, http://www.kmggold.com, and now Calgary Gold Buyer's website, http://www.CalgaryGoldBuyer.ca, makes the most recent and detailed precious metal market information available to their customers in both Canada and the United States, providing live gold, silver, platinum, and palladium pricing, as well as valuable information to make selling precious metals for the most money as easy and secure as possible.
If Calgary Gold sellers are ready to bypass the middleman and start putting more money in their own pockets, they should contact KMG Gold directly at 1.877.468.2220.
For more info on KMG, visit kmggold.com or call 1.877.468.2220.
Media Contact: Michael Gupton, BScEng(Civil) CET AScT, President, KMG Environmental Inc., 204.452.4653
###