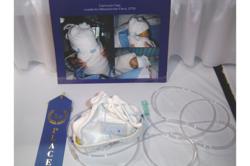 The Maddak Awards is our tribute to the creativity, ingenuity and dedication of occupational therapists and students who are continually looking for new ways to enhance the rehabilitation of their clients.
Pequannock, New Jersey (PRWEB) September 09, 2011
Dedication and resourcefulness drive occupational therapists to develop creative solutions to their patients' needs. It was due to this that led Kurt Landsberger, Chairman of the Board of Maddak - manufacturer of aids for daily living, to initiate the Maddak Awards Competition for Product Design creating a forum where occupational therapists and students could share their ideas and be recognized for their contributions to advancing patient care.
Landsberger explained "In many instances, when an occupational therapist can't find the right product for someone, they just goes out and make it! The Maddak Awards is our tribute to the creativity, ingenuity and dedication of occupational therapists and students who are continually looking for new ways to enhance the rehabilitation of their clients." Landsberger went on to say that "these inventions and innovations are important, and should be shared, because they satisfy a need in the patient's rehab process."
The Maddak Awards Competition, which just celebrated its 37th anniversary in April, is held each year during the American Occupational Therapy Association (AOTA) Annual Conference. Participants must be present at the competition and are required to present their entries to a panel of judges. Awards Coordinator, Marissa Campbell told us "we usually have 5-7 volunteer judges, all occupational therapists, who are asked to rate the entries based on originality, therapeutic value, function and appearance/presentation." Cash prizes are given for 1st, 2nd and 3rd place winners in 2 categories: professional and student. Over the years, the awards program has become a highlight of the AOTA conference. Therapists and students, as well as other conference attendees and exhibitors, crowd around to view the innovative product inventions designed to promote independent living.
This year's competition included 19 student entries and 11 professional entries. The winners were announced at a complimentary breakfast sponsored by Maddak and open to all conference attendees. First place in the Professional category, and the winner of $1,000 was Jon Turnquist, OTR/L from St. Ambrose University. Turnquist is a veteran Maddak Awards participant and over the years has won multiple times. Turnquist told us, "My invention, the Magnetic Display Magnifier, was designed for newer stoves that don't have knobs that can easily be marked for specific temperature settings. It helps people with low vision see the temperature readout on digital stoves". While presenting his invention, Turnquist demonstrated how it attaches to the stove with magnets and enlarges the digital temperature readout making it easier to see.
Mackenzie Fary from New York University took first place in the Student category and won $500. Her invention, the Cannula Cap, was designed for infants who receive oxygen via nasal cannula. "Infants," Fary explained "tend to dislike the feeling of the tape on their face and are constantly pulling the cannula out of the nose resulting in a drop in oxygen saturation." She demonstrated how the snug fitting design of her invention allows the cannula to be secured to the cap; eliminating the need for tape on the infant's face which, she told us "can result in skin irritation and/or breakdown."
More information on the Maddak Awards and a complete list of the 2011 winners and their product innovations can be can be viewed on the Maddak website at http://www.maddak.com/pages.php?page=maddak_awards&osCsid=71d43acdec54d3837f498872e18d092a.
About Maddak
Maddak Inc. manufactures products that simplify the tasks of daily living – eating, drinking, dressing, grooming, bathing, toileting, etc. – for seniors, people with disabilities and people undergoing rehabilitation. The company mission is to provide quality products that enable people to maximize their independence and remain active despite any limitations they may face. Marketed under the Ableware® brand name, the Maddak product line includes over 400 products sold through medical and hospital supply centers, pharmacies, homecare centers, mail order catalogs and internet outlets. Established in 1971, Maddak Inc., headquartered in Pequannock, NJ is the largest U.S. manufacturer of assistive devices, clinical modalities, home healthcare and rehabilitation products. View our complete product line at http://www.maddak.com.
# # #