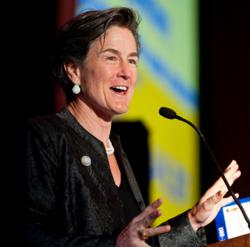 I don't think it's justified doing an abdominal hysterectomy simply because you can't do anything else.
—Dr. Franklin Loffer, AAGL Executive Vice President/ Medical Director, Ob.Gyn. News, December 2010.
San Francisco, CA (PRWEB) September 07, 2011
600,000 women in the United States have a hysterectomy each year. Because of a lack of surgeon training, two-thirds of these women will have an abdominal hysterectomy – an outdated approach that involves a seven-inch incision, a multi-day hospital stay, six weeks of recovery, and unnecessary pain – even though less invasive approaches are available. To improve surgical care for women, Dr. Kate O'Hanlan, a Northern California-based gynecologic oncologist, founded LIGO, the Laparoscopic Institute for Gynecologic Oncology in 2006. The only institute of its kind, LIGO trains gynecologic surgeons in minimally invasive laparoscopic procedures through a CME-certified surgical masters course offered twice a year. The next course is September 16-17, 2011 in San Francisco, CA.
At LIGO, surgeons learn advanced laparoscopic techniques including Total Laparoscopic Hysterectomy (TLH). TLH is a minimally invasive surgery in which the entire hysterectomy is performed through four, ½ inch incisions in the abdomen. "TLH is safe, available to essentially all women, and has been shown to involve less pain, a shorter hospital stay, and a maximum recovery time of two weeks," says Dr. O'Hanlan.
According to Dr. O'Hanlan, most other abdominal surgeries (appendectomy, gall bladder, hernia repair, etc.) are routinely performed laparoscopically. "But because gynecologists are not getting the training they need to perform minimally invasive surgery for hysterectomies, women are not receiving state-of-the-art surgical care," she says. As a result, large incision surgeries remain the norm despite the availability of less invasive approaches like TLH that are safer, less expensive and are the hysterectomy methods preferred by gynecologists themselves.
In fact, AAGL (The American Association of Gynecologic Laparoscopists) has issued a position statement calling for a dramatic reduction in the number of abdominal hysterectomies in favor of less invasive approaches. "We want patients to know, insurance companies to pay attention, and we want doctors to either learn how to do the procedures, get someone to help them, or just refer. I don't think it's justified doing an abdominal hysterectomy simply because you can't do anything else. That's not in the patient's benefit," said Dr. Franklin Loffer— AAGL Executive Vice President/ Medical Director, as quoted in the industry publication Ob.Gyn.News in December 2010.
"Women needing hysterectomy should know about this," said Dr. O'Hanlan. Despite the fact that hysterectomy is the second most common surgical procedure for women in the U.S., unless women know someone who has had minimally invasive hysterectomy surgery, they are unaware that using only four tiny incisions is an option. "Total laparoscopic hysterectomy is safe and effective even if a woman has not had children, has cancer, is senior in age and/or has a very high body mass," she says. "But even university-trained resident graduates are not being taught advanced laparoscopic techniques for hysterectomy, and so cannot offer these approaches to their patients."
"With total laparascopic hysterectomy, women get their life back sooner after surgery," says Dr. O'Hanlan. "They have less pain, less disability, and can return to normal activities – jobs, families, etc – almost immediately and typically a full month earlier than with a large incision approach. That is a tremendous emotional and financial benefit for women and for society as a whole," she says.
To date, LIGO has trained over 1,000 surgeons, with attendees coming from around the globe including Mexico, Saudi Arabia, Chile, South Africa, New Zealand, Panama, Canada and Guyana. "We are improving global healthcare for women, one surgeon at a time," says Dr. O'Hanlan.
Sources
AAGL Position Statement: Route of Hysterectomy to Treat Benign Uterine Disease. Journal of Minimally Invasive Gynecology 2010
Tucker, M, Go Minimally Invasive for Most Hysterectomies. OB.Gyn. News 2010
###