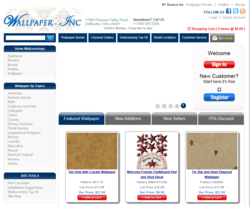 Chillicothe, Ohio (PRWEB) September 09, 2011
Wallpaper Inc, is an online resource for finding deep discounted wallpaper, wallpaper borders, wall murals and many other wall covering needs. Wallpaper, Inc is announcing the redesign of its Web site, http://www.wallpaper-inc.com.
With its sleek new design, the new website speaks to the quality and sophistication behind the company. The design now makes it easier for shoppers to find items that are of special interest to them. The quick categorical navigation and improved search options make it easy to find the right items that match each customers exact needs.
The site also features many new enhancements like being able to quickly add items to the cart from any page, to quick access to shopping cart and an all new seamless checkout. In addition, the site will also feature explicit content on all your wall covering needs, including detailed "how to" instructions and articles along with tips on selecting the right style for your home. Customers can literally view thousands of products and feel extremely confident when ordering online at http://www.wallpaper-inc.com.
In addition to the redesign of the website, a soft, elegant, and inviting new logo has been introduced, giving each customer a feel that they are in fact shopping at the correct site for all their wall covering needs.
Eventually the site hopes to add a video section to cover many of the important questions that first time wallpaper purchasers might ask. This additional content will only help to improve the site and will continue to propel it forward and make it a house hold name where shoppers can come for all their unique wall covering needs.
###