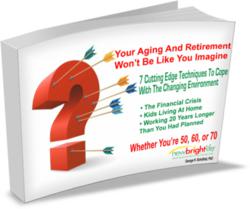 The faster change comes, the harder it is to predict the future.

Lakewood Ranch, FL (PRWEB) September 30, 2011
"Your Aging And Retirement Won't Be Like You Imagine" is a new free report, published today by New Bright Life, LLC. This groundbreaking report identifies the challenges of life that happen to most people over 50, how to be prepared for them and how to be flexible with them. While much of the mainstream media and advertisers sell fear and anxiety around getting older, the report offers information and methods for people over 50 to create their best possible futures. The report is available at http://newbrightlife.com.
Life after 50 is a time of significant life changes. Readers of this report will learn about what is needed for successful aging, a high quality of life, thriving relationships, and a balanced lifestyle.
Many people need new, smarter, flexible approaches to life after 50, especially when facing situations like not having enough money to last the rest of their longer lives, changing jobs, working longer than expected, changing health (their own or a loved one's), retiring (or not), becoming a caregiver for elderly parents, marriage or partnership, losing a spouse or partner through separation or death, relocating, living with adult children, and/or creating satisfying, meaningful lives.
Whether life is going smoothly or situations are forcing major changes, "Your Aging And Retirement Won't Be Like You Imagine" offers techniques that can help people over 50 create their best possible lives.
For more information, visit http://newbrightlife.com
About New Bright Life, LLC
New Bright Life, LLC is an education company that helps people over 50 learn how to create successful, thriving lives in a rapidly changing world through cutting edge tools and techniques. The company's focus is on successful aging, quality of life, great relationships, a balanced lifestyle, and personal adaptability. New Bright Life recognizes that there is no one-size-fits-all solution or magic pill for life after 50 and that everyone after 50 can learn how to live their best possible lives, whether life is going smoothly or if situations are forcing major life changes to happen.
Contact:
Benjamin Gioia
Vice President
New Bright Life, LLC
347-870-6502
ben(at)newbrightlife(dot)com
http://newbrightlife.com
# # #