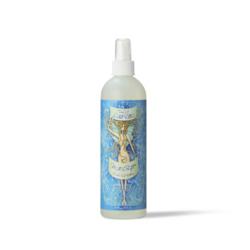 New York, NY (PRWEB) September 01, 2011
DevaCurl, a leader in curly hair care products, is celebrating a decade with Mist-er Right. To commemorate the anniversary, the company is releasing a limited edition of the popular lavender-infused curl revitalizer. Beginning this month, DevaCurl Mist-er Right 12-ounce bottles will be available with a beautiful artistic design, reminiscent of the original label artwork used when the product debuted in 2001.
DevaCurl Mist-er Right is a lightweight spray that rejuvenates curls and restores moisture to the hair. Recommended for all curl and hair types, DevaCurl Mist-er Right can be used between cleansing to naturally refresh curls and eliminate frizz without the dehydrating effects of a dry shampoo.
DevaCurl co-founder and the Original Curly Girl, Lorraine Massey, developed the versatile styling product originally known as 'Lavender Herbal Hair Tonic' for her curly clients at the renowned Devachan salons in New York. DevaCurl Mist-er Right was later launched as part of the award-winning DevaCurl curl care collection.
"Early in my life and career, I became certain bubbly, sudsing, lathering and alcohol-based products were drying out my curls and those of my clients," said Ms. Massey. "After taking a course in advanced herbology, I discovered lavender with its gentle cleansing and healing properties, was the answer." She added, "Combined with other essential oils, including rosemary, lemongrass and chamomile, DevaCurl Mist-er Right is a 'natural' for refreshing and deodorizing moisture deprived hair without the harsh effects of detergents and alcohol."
DevaCurl Mist-er Right is available while supplies last at select professional salons in the United States and Canada. Visit http://www.mydevacurl.com for locations or more information.
About DevaCurl
DevaCurl offers a complete collection of products designed exclusively for curly, wavy and chemically processed hair to rejuvenate and restore curls to their natural order. The DevaCurl story and its unique collection of curly products originated with thousands of enthusiastic curly clients at our Devachan Salons in the trendy SOHO district of NYC. The innovative DevaCurl collection of sulfate, silicone and paraben-free conditioning cleansers and styling products address curly hair's specific needs using healthy oils and botanical extracts that cleanse, hydrate and lock-in moisture. For more information, visit http://www.mydevacurl.com
###