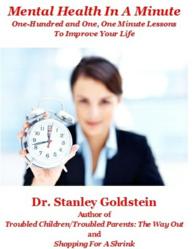 It is the unexplained which makes events frightening.
Warwick, NY (PRWEB) September 06, 2011
No nineteenth century novel has exhibited so powerful a grip on readers as did Bram Stoker's Dracula, according to Dr. Stanley Goldstein. The story was made into numerous plays and movies which are popular even today. Yet few ask why this fable had such a profound influence for over one hundred years while the works of greater novelists were forgotten.
In his new book, Mental Health In A Minute,Dr. Stanley Goldstein states that Dracula is rife with psychological symbolism. In it, people arise each day from their "undead" state, this symbolizing the new beginning which is yearned for by many. And each day these undead must return to their coffin, which might well symbolize a mother's womb.
He states that an admixture of love and rage is present in many of the characters, as when the vampire, Lucy, is destroyed by her lover.There is also a fluidity of ego boundaries with Count Dracula controlling the mind of his victims.
Dr. Goldstein states that these are analogous to the experiences of young children who both love and hate their mother because of their dependence on her and the frustrations she forces upon them during their development. She is, moreover, a person who knows, they believe, all about them including their thoughts. Feelings of rage can be projected onto this external Dracula figure, a creature who is ripe for hating.
He concludes that the persisting allure of the Dracula fable is that it so well symbolizes the universal early childhood experience, one which still exists in the unconscious memory bank of all adults.
Many other psychological insights are contained in Dr Goldstein's new book, Mental Health In A Minute/ One-Hundred and One, One Minute Lessons To Improve Your Life.
In one-hundred and one, one and two page lessons, Dr. Goldstein provides the latest psychological information on parenting, daily living, work, crime, and public affairs to increase your effectiveness as a parent, worker, and citizen..
Dr. Goldstein explores such wide-ranging matters as "Those Frightening Autism Rates," "Why Criticizing A Child For Crying Is Unhelpful," "The Complex Nature Of School Bullying," "Why Normal People Make Illogical Decisions," "Stage Fright," "The Powerful Dracula Fable," "The Two Crucial Behavioral Skills," "Reducing The Psychological Distress Caused By Unemployment," "Military Leadership And Organizational Success," and many others.
One-hundred and one, one minute lessons to reduce your anxiety, since it is the unexplained which makes events frightening.
Dr. Stanley Goldstein is a psychologist who has appeared on national broadcasts including The Larry King Show and CourtTV. He is the author of Troubled Children/Troubled Parents: The Way Out, which is now in its 2nd edition, and Shopping For A Shrink: Finding the Right Psychotherapist for You or Your Child. He lives in New York's Hudson Valley.
Publisher: Wyston Books, Inc.
Publication Date: September 1, 2011
eISBN: 9780983232643
Price (E-book): US$2.99
Available now at Amazon.com for the Kindle, Barnes&Noble.com for the Nook, and in the iBook store for the iPad and iPod.
###