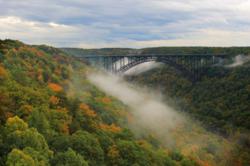 "I grew up inspired by these mountains," said Carl Frischkorn, CEO of Wild Rock. "Wild Rock brings that inspiration to your kitchen window or a hike that starts from your front door."
Lansing, West Virginia (PRWEB) September 01, 2011
West Virginia's New River Gorge is world famous for its staggering beauty and access to outdoor adventure. Wild Rock, designed to complement that natural wonder, is the region's first sustainable mountain community.
The growing community shares a three-mile boundary with the 70,000-acre New River Gorge National River. While hidden among dense forest, the community still offers a commanding view into the 900-foot gorge. There are 10 miles of trails for walking and mountain biking connected to 725 acres of property that's ready for new homes.
"I grew up inspired by these mountains," said Carl Frischkorn, CEO of Wild Rock and a West Virginia native. "Wild Rock brings that inspiration to your kitchen window or a hike that starts from your front door."
A Sustainable Mountain Community
Everyone involved in this community's development, from Wild Rock's construction crews to the first homeowners and visitors, shares the founders' sustainability vision.
Taking a note from the Hanover Principles, Wild Rock defines sustainability as "meeting the needs of the present without compromising the ability of future generations to meet their own needs." The mindset takes into account aesthetic/cultural, environmental and economic considerations. It means procuring local construction materials and labor, and building roadways with gravel to allow natural water flow. Homes use night-sky-friendly lighting schemes so that stargazing strolls aren't diluted. Landscaping is minimized, leaving the natural ground covering intact, so there's no need for additional watering and fertilizing of lawns.
The internationally recognized landscape architectural firm Nelson, Byrd, Woltz of Charlottesville, Va., designed Wild Rock to blend seamlessly with nature. "Extensive first-hand site observation led us to design a community that respects and reinforces Wild Rock's remarkable natural qualities," said Warren T. Byrd Jr., CLA, FASLA, principal partner of Nelson, Byrd, Woltz.
The roads and utilities follow ridgelines and existing road traces to embrace and preserve the site's ravines, streams, wildlife corridors and intact groves of Rhododendron, Mountain Laurel and Hemlock.
"These protected precincts contribute to an interconnected system of common areas that are highlighted by hiking and biking trails and scenic overlooks," Byrd said. "Such careful site design allows an appropriate balance between achieving privacy for individual parcel owners and encouraging a sense of shared resources and recreational opportunities."
Frischkorn, a venture capitalist who now lives in Charlottesville, built one of Wild Rock's first homes. Since he and his partners first purchased the land in 2008, they've seen five other lots sold and three custom homes built.
Designed by Formwork Architecture of Charlottesville and feng shui consultant Alex Stark of New York, Frischkorn's home is an architectural achievement in harmony with nature. Naked wooden planks of reclaimed heart pine side the house. It stands vertical with the trees. The home was built using low impact practices and embodies Frischkorn's sustainability ethos. The setting includes glimpses of the iconic 876-foot-high New River Gorge Bridge throughout four comfortable seasons. The bursting palette of fall leaves gives way to snow-covered treetops, while in warmer months, pink and white rhododendron blooms dot the landscape. Wild Rock's groomed trails connect to untamed footpaths, from which you reach outcrops with views as majestic as the soaring flight of the area's many peregrine falcons.
"The investors in this community are also the first to have built homes here," Frischkorn said. "We want to ensure this beauty is available to other families and friends who share a love of the outdoors."
Developer Financing Now Available
While buying a vacation home may seem out of reach in the current market, Wild Rock developers are making ownership attainable for a wide range of buyers. West Virginia has some of the lowest real estate prices in the country, and the development team offers a selection of adaptable home plans. They are also offering owner-financed lot sales backed by a bank home loan after qualified buyers put 25 percent cash down.
"One of the guiding principles of Wild Rock is that all buyers will custom design their homes," said Frischkorn. "We're here to expedite and lead people through that process."
Adventure at Wild Rock's Front Door
Wild Rock's neighbor and partner is Adventures on the Gorge. The outfitter guides groups for everything from whitewater rafting and rock climbing to bird watching and zip line tours through the wilderness canopy. The excursions are breathtaking and attract a clientele that can choose to vacation anywhere in the world. A few of the notable guests to the region include astronaut Neil Armstrong, actress Jennifer Garner, NASCAR driver Terry Labonte, NFL star Tony Romo and folk singer Arlo Guthrie.
The area's beauty and wilderness assets—including 1,600 climbing routes—also attracted the Boy Scouts of America to establish its nearby Summit Bechtel Reserve. This $400 million private investment will bring thousands of Scouting families and outdoor enthusiasts to the area each year, starting with the 2013 National Scout Jamboree.
Earlier this month, Cheapflights.com named the New River Gorge as one of the top college student destinations for "youthful exploration" around the world.
Wild Rock is also minutes from Fayetteville, W.Va. A selection of charming independent restaurants and shops anchor this revitalized Main St. town, voted "Coolest Small Town in America" in 2006 by Budget Travel. In addition to its connection to all flavors of wilderness adventure, the town features a skate park, a performing arts theater and a bustling farmer's market for locavores. Fayetteville's residents—outdoor enthusiasts, artisans and entrepreneurs—are passionate about the region and sharing it with others. Many of the people who call Fayetteville home are part of the outdoor industry. They may be your raft guide, but they are also amateur historians and local ecologists. They can explain the region's coal industry past and its transition to outdoor tourism, or the best place to catch smallmouth bass.
The community is also close enough for a day trip to world-class golfing at The Greenbrier, home of the PGA Greenbrier Classic, as well as some of the East Coast's best skiing in the winter.
This mix of people and unfettered access to everything outdoors makes for life-changing vacations. At Wild Rock, you can capture that same experience in a place you can call home.
"We are honored to share our dream of living in the untouched beauty of the West Virginia mountains," Frischkorn said.
About Wild Rock
Founded in 2008, Wild Rock is a growing, sustainable family community perched above the 900-foot New River Gorge in southern West Virginia. Designed to blend with the natural landforms, the 150-homesite community offers residents the serenity and adventure of an outdoor lifestyle. Adjacent to the 70,000-acre New River Gorge National River, Wild Rock's 725-acre community encompasses 10 miles of trails for walking and mountain biking. The community's other neighbor, Fayetteville, W.Va.—the East Coast's adventure sports capital—is a destination for world-class outdoor adventures, including everything from whitewater rafting to zip line tours of the wilderness canopy.
###