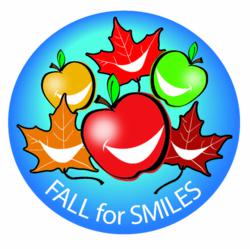 The messages that Fall for Smiles promotes are vital when Americans are making choices about how to allocate resources and stay healthy
Chicago, IL (PRWEB) September 01, 2011
A recent public opinion survey commissioned by Oral Health America found that in the past year, more than one-third (35 percent) of those who regularly visit the dentist have cut back*. Though this finding tracks with the fears and realities of our current economy, routine dental visits play a vital role in preventing oral and systemic disease and keeping future healthcare costs down.
This finding is one of the many reasons why on September 1, Oral Health America is launching the second annual Fall for Smiles® campaign that aims to remind policymakers and the public about the importance of dental self-care, regular dental visits, healthy food choices and avoiding tobacco products. Fall for Smiles runs through the end of October. Dental offices, health educators, school dental program officials, parents and others can find a variety of tools to promote healthy mouths, including a social media guide, coloring sheets and campaign handbook by visiting http://www.oralhealthamerica.org/fallforsmiles
"Fall for Smiles reminds families to prioritize the health of their mouths in back-to-school routines," said Beth Truett, President & CEO, Oral Health America. "The commitment to dental health starts at home, and continues with regular visits to a dental care provider. We have a societal responsibility to educate Americans about why oral health is important, and to ensure that all Americans, particularly those most vulnerable to disease, are able to obtain the care they need."
Additional findings in the public opinion survey found that a greater number--nearly one-half (47 percent)--of larger households and those with younger children have cut back on their visits to the dentist in the past year.1 Those who have younger children cut back more frequently than those households that have slightly older children. This further emphasizes the impact the economic downturn is having on young families who are struggling to get established and the need for policies and programs that support dental care and educational resources for them.
"The findings from the public opinion survey reinforce why Oral Healthcare Can't Wait is involved with Fall for Smiles," said Gary Price, President of Dental Trade Alliance. "The messages that Fall for Smiles promotes are vital when Americans are making choices about how to allocate resources and stay healthy."
Oral Health America is a national, non-profit organization dedicated to changing lives by connecting communities with resources to increase access to dental care, education and advocacy. The Fall for Smiles Survey is sponsored by Oral Healthcare Can't Wait and Plackers, a leading brand of consumer oral care products, and conducted by Harris Interactive®. The survey was conducted on-line within the U.S. by Harris Interactive on behalf of Oral Health America in June 2011.
About Plackers
Plackers, a leading brand of consumer oral care products and proud sponsor of Oral Health America's Smiles Across America and Fall for Smiles programs, is a pioneer in dental flossers and other consumer oral care products. Having patented the first disposable dental flosser, Plackers is committed to developing high quality, affordable oral care products with innovative features that include a comprehensive line of dental flossers, dental accessories, and dental night protectors including the Grind No More Dental Night Protector. Plackers holds over 20 patents and is sold in major retailers worldwide. For more information, visit http://www.plackers.com
Fall for Smiles is supported by: Aspen Dental, DentaQuest, Ivoclar Vivadent, Midmark, OralDNA Labs, Patterson Dental, Plackers and Young Dental.
*Oral Health America public opinion survey sponsored by Oral Healthcare Can't Wait and Plackers
###