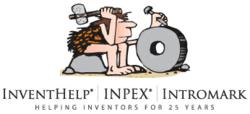 Pittsburgh, PA (PRWEB) September 02, 2011
InventHelp®, America's largest inventor service company, announces that one of its clients, an inventor from Iowa, has designed a vertical hanging assembly that could store and display hair-care accessories, such as clips and bands. This invention is patented.
"Morningstar Hair Works" would hang from a wall or mirror in a home or hair salon and could serve as a convenient organizing solution. The unit would feature a fashionable yet versatile design to blend with any décor. Additionally, Morningstar Hair Works can be personalized.
Morningstar Hair Works would consist of a vertical assembly. A large key ring would be affixed to the top of the unit and two medium rings and two small rings would be connected between the large rings with an attached ribbon. The ribbon would be secured via two ribbons clamps. The bottom of the ribbon would feature a rivet containing another key ring. A swivel hook would be attached to the key ring and an x-stitched, bookmark-style component or ribbon would be connected to the hook. Hair pins or barrettes can be stored on this component. An attached sachet bag would hold brushes and combs, and a beaded, twisted cord could hold hair clips. Components can be added, detached or rearranged according to a user's needs. Morningstar Hair Works could be producible from different styles of cloth to suit any décor, as well as from recycled fabric and lightweight cardboard.
InventHelp® is attempting to submit the invention to companies for review. If substantial interest is expressed, the company will attempt to negotiate for a sale or royalties for the inventor. For more information, telephone Dept. 08-AVZ-455 at (800) 851-6030.
# # #