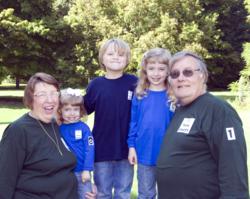 Being grandparents is the most rewarding career in one's life. It is humbling to be selected to represent all who love loving and being loved by (their) grandchildren.
St. Petersburg, Florida (PRWEB) September 02, 2011
In time for National Grandparents Day on Sunday, September 11, Nancy and Mike Conley of Canton, Ohio, have been named GRANDparents of the Year by GRAND Magazine, the digital magazine for grandparents and their families, and sponsors REALforMe.com – Powered by Humana, 1800Flowers.com, American Humane Association and Mattel, Inc.
The fifth annual GRANDparent of the Year Award recognizes the love, wisdom and growing importance of grandparents to our world. It honors those whose lives demonstrate the unconditional, loving bond between grandchild and grandparent, shows appreciation for the more than 65 million grandparents in the U.S., and brings greater awareness to National Grandparents Day on Sunday, September 11, 2011. All nominations were made by GRAND magazine readers. A judging panel selected 10 finalists and winners.
"A number of factors, such as job losses and foreclosures during the recession and parents in the military stationed overseas, have contributed to grandparents being the primary caregivers for nearly six million children in this country – and the numbers are still growing," said Christine Crosby, CEO of GRAND Media LLC and Editorial Director of GRAND Magazine. "In fact, 75 percent of all non-parent care of children in America is now provided by grandparents – that is a startling shift in family dynamics. We want to acknowledge this guardian role that is increasingly being taken on by grandparents and help all grateful grandchildren shine a spotlight on their beloved grandparents by enabling them to say 'thank you' in a big way."
Many of the nominations received told of grandparents working to keep their loved ones healthy and happy, as primary guardians to young grandchildren. The selected winners, Nancy and Mike Conley of Canton, Ohio, are loving grandparents to four grandchildren. Recently, their 8-year-old granddaughter came to live with them after her mother, the Conleys' daughter, passed away. Nancy retired to be more available and provide greater care for their granddaughter. Jeff Conley, their adult son who nominated them, recognizes and appreciates their act of self-sacrifice and acceptance of responsibilities that embodies love, dedication and putting their grandchild's needs before their own. Apparently there is a good legacy of involved grandparents in the Conley family, as Jeff recalls fondly his own experience of having his grandmother (Nancy's mother) living with them for a time at home. As Jeff wrote in the submission about his parents, "they give fully; they serve humbly; they love completely. They don't do it for recognition."
"Being grandparents is the most rewarding career in one's life," said Nancy Conley, a winner of GRAND Magazine's GRANDparent of the Year for 2011. "It is humbling to be selected to represent all who love loving and being loved by (their) grandchildren. We have been truly blessed."
"Wow, to be selected is very humbling to say the least. I get very emotional when I think about it," said Mike Conley, a winner of GRAND magazine's GRANDparent of the Year for 2011. "Our love is spread around because He (Jesus) gives us too much to hold on to. So we take some of this love and give it away."
The finalists of GRAND Magazine's GRANDparent of the Year 2011 are:

Estrella Caban of Jamaica, New York
Betty Cornelius of McArthurs Mills, Ontario, Canada
Donne & Sonny Davis of Menlo Park, California
Kathy Gaillard of Portsmouth, Virginia
Debra & Joseph Kelsey (Patrick) of Blountstown, Florida
Angie Magliozzi of Silver Spring, Maryland
Julie Matsushima of Santa Clara County, California
Janet Penner of Fort Pierce, Florida
Carol & Ron Stickney of Sparta, New Jersey
Debbie Williams of Richland County, Ohio
"We congratulate Mike and Nancy as the 2011 GRANDparents of the Year, and applaud the dedication of each nominee," said Bruce Feinstein of Humana's marketing organization. "As this year's primary contest sponsor, REAL Powered by Humana recognizes that healthy and happy grandparents make good grandparents, and that's why we've remained committed to our partnership with GRAND in providing free and valuable resources for readers to achieve greater health and well-being in all areas of their lives."
The September/October issue of GRAND Magazine will feature the full nominations and photos of winners and finalists. To read the current issue click here. For the month of September in honor of National Grandparents Day, GRAND Magazine is making available complimentary subscriptions to GRAND ($19.95 value for 12 issues). Click here for a free subscription or email a request to grand@grandmagazine.com.
About Humana
Humana Inc., headquartered in Louisville, Kentucky, is a leading consumer-focused health care company that offers a wide range of insurance products and health and wellness services that incorporate an integrated approach to lifelong well-being. By leveraging the strengths of its core businesses, Humana believes it can better explore opportunities for existing and emerging adjacencies in health care that can further enhance wellness opportunities for the millions of people across the nation with whom the company has relationships.
About American Humane Association Since its founding in 1877, American Humane Association has been at the forefront of virtually every major advance in protecting children, pets and farm animals from cruelty, abuse and neglect. Today, we're also leading the way in understanding human-animal interaction and its role in society. As the nation's voice for the protection of children and animals, American Humane Association reaches millions of people every day through groundbreaking research, education, training and services that span a wide network of organizations, agencies and businesses. For more information, or to support vital programs for children and animals, please visit http://www.americanhumane.org.
About 1800FLOWERS.com
1800FLOWERS.com, Inc., is the world's leading florist and gift shop. For more than 30 years, 1-800-FLOWERS® (1-800-356-9377 or http://www.1800flowers.com) has been helping deliver smiles for our customers with gifts for every occasion, including fresh flowers and the finest selection of plants, gift baskets, gourmet foods, confections, candles, balloons and plush stuffed animals. For more information visit http://www.1800flowers.com.
About GRAND Magazine
GRAND Magazine is an online bi-monthly magazine that serves the 65 million U.S. grandparent market. It is delivered exclusively in digital format. It is published by GRAND Media, LLC, which was established in 2004. For more information about GRAND Magazine visit http://www.GRANDmagazine.com.
All brand names, product names or trademarks belong to their respective holders.
###