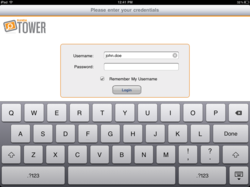 TOWER is a disruptive innovation that addresses the needs of one of the nation's most vital value networks
Nashville, TN (PRWEB) September 01, 2011
As RANDA Solutions has been named to the INC 500 list of the fastest-growing private companies in the U.S. for a second year, RANDA's TOWER for teacher observations has been released just in time for the fall semester. RANDA's innovations in education data and application development have yielded a phenomenal 884% growth in three years.
"TOWER is a disruptive innovation that addresses the needs of one of the nation's most vital value networks," says Randall Dennis, RANDA's Chief Strategy Officer. "We can substantially improve the ROI of education's investment in teachers. The TOWER tool is a groundbreaking link in education's value chain- streamlining, automating and improving observations, walkthroughs, and communications."
RANDA CEO, Marty Reed, agrees. "This goal is the driving force behind all our innovations: improving teacher effectiveness. It fuels our thinking and our success. Every tool we can provide that saves time and improves quality provides additional capacity for educators to focus on students."
The TOWER System, embraced by many school districts both nationally and internationally, holds a number of innovative features and patent-pending technology. Even so, it is primarily noted for several simple benefits to educators:

TOWER's paperless observations save time and resulting data is immediately usable.
Easily manageable observation scheduling and progress monitoring.
The system and app is simple to learn and operate.
RANDA's Mobile iPads and Android apps sync without 100% Wi-Fi coverage.
Clients provide their own rubrics and walkthrough
With so many technological advantages, it's most distinctive feature is not technology. Flexibility is TOWER's key component. Many states are in flux as they determine the best rubric by which to measure and manage teacher improvement. TOWER was specifically designed to allow districts to change rubrics as state requirements change- at no additional cost.
"These are exciting times for RANDA," Reed adds. "To enjoy the validation of both INC magazine and the people we serve in one month is deeply gratifying."
Information on RANDA's TOWER System and TOWER Mobile can be obtained by calling 877.314.1412. A brief video on the Benefits of TOWER is available on YouTube: http://www.youtube.com/watch?v=uzIkQtHPX6s
RANDA Solutions is an INC. 500 software firm based in Nashville, TN serving the education sector. RANDA's tools help states, districts and consortia aggregate, align, and augment education data including standardized testing results, formative assessments, teacher evaluations and demographics. Historical and live data reporting, along with additional customized content, is delivered via RANDA's secure web portals and integrates seamlessly with RANDA's cross-platform mobile applications for iPads and Android devices. Information on RANDA can be found at http://www.randasolutions.com.
###