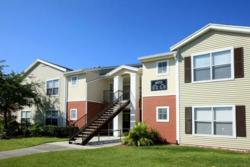 "Although the property is no longer in the tax credit program, it continues to supply quality affordable housing to working families in Vero Beach."
Robert J. Finlay
R.J. Finlay & Co. Chairman and Chief Executive Officer
Boston, MA (PRWEB) September 27, 2011
R.J. Finlay & Co., a full service real estate, construction and building materials firm whose diverse portfolio span 12 companies and TCAM, a leading investment manager for the affordable housing and renewable energy industries, today announced the successful refinancing of a 172-unit rental property in Vero Beach, Florida.
R.J. Finlay & Co. acquired the former low-income housing tax credit property out of foreclosure for $5.3 million in March 2010. At the time of acquisition, occupancy was 74% and the property was in need of a major facelift. It had 30 down-units, dated exterior painting, missing outdoor signage, poorly kept grounds and its common area amenities were inferior to those of local competitors. Working with TCAM, R.J. Finlay & Co. invested in capital improvements including bringing the down-units on line, landscaping, repainting the building exterior, resurfacing the parking lot, adding front and side signage, installing new washers and dryers, refurbishing the clubhouse, and adding common area facilities including a fitness area and business center. The renovation plan included energy efficiency upgrades throughout the project such as the replacement of incandescent light bulbs with fluorescent light bulbs. R.J. Finlay & Co. also brought in a new property management company, Finlay Management, Inc., to implement its management and marketing plan.
Through the foreclosure the LIHTC rent restrictions were removed at this property, greatly expanding the eligible renter pool. Rents have, however, remained at the LIHTC levels. Today, occupancy is at 94%, revenue has increased by 45%, and the property appraises at $12 million. "Although the property is no longer in the tax credit program, it continues to supply quality affordable housing to working families in Vero Beach," said R.J. Finlay & Co. Chairman and Chief Executive Officer Robert J. Finlay. "We're pleased that a struggling property is now flourishing."
R.J. Finlay & Co. is a holding company of diverse businesses and investments with a central focus on real estate and a portfolio spanning 12 companies and includes nearly 300 employees throughout the United States. TCAM is a leading investment manager, providing services for more than 60,000 apartment units across the U.S. TCAM's services include comprehensive asset management, portfolio management and advisory services. Finlay Management, Inc. is a privately held, national real estate firm with a thirty-year history of multifamily property management, investment and development.
###