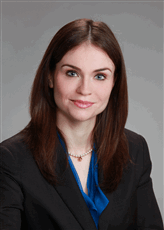 CHICAGO, IL (PRWEB) September 01, 2011
Christine Rosso of The Patterson Law Firm, LLC has been named to the inaugural edition of the Martindale-Hubbell® Bar Register of Preeminent Women Lawyers. This designation exclusively identifies women attorneys who have achieved the highest possible rating in both legal ability and ethical standards and is a reflection of expertise, experience, integrity and overall professional excellence. Less than five percent of women lawyers in the nation have achieved this top rating.
The rating is the result of a peer review system based on the confidential opinions of practicing attorneys and members of the judiciary based on performance in five key areas: legal knowledge, analytical capabilities, judgment, communication ability and legal experience. It allows peer review rated women lawyers the opportunity to demonstrate their status while creating opportunities for them to expand their professional network with other elite women lawyers.
Rosso is one of the youngest lawyers to be named to the list and concentrates her practice in breach of contract, unfair competition claims, corporate partnership and LLC transactions, insurance coverage and contractual indemnity. She graduated from the University of Michigan Law School in 2009. Prior to joining The Patterson Law Firm, LLC in 2010, Rosso completed an externship for Judge Richard Cudahy of the Seventh Circuit Court of Appeals and for the office of the general counsel for Children's Memorial Hospital.
Martindale-Hubbell® has been a leading directory of lawyers since 1868. Today, they provide ratings for more than one million lawyers.
The Patterson Law Firm, LLC is dedicated to helping businesses, professionals and entrepreneurs properly handle business lawsuits while facilitating effective business practices. With the top four lawyers having more than 99 years of combined trial experience, The Patterson Law Firm, LLC provides effective, efficient and ethical representation for clients.
For the latest in emergency business litigation, check out http://emergencybusinesslitigation.com.
To learn more about how The Patterson Law Firm, LLC can help you, call the office at 312.223.1699.