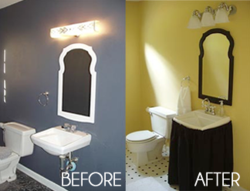 It was decided to design the bathroom around Golden Lighting's Brookfield 3 Light Vanity in the pewter finish.
(PRWEB) September 15, 2011
Remodeling a bathroom can be a challenge in and of itself, but remodeling a bathroom on a budget is even harder! Golden Lighting sponsored a bathroom makeover contest with the objective to see who could meet the challenge of redesigning a bathroom by getting the most for less. The contest restricted the redo budget to under $250, and contestants had to use at least one Golden Lighting light fixture.
The bathroom selected wasn't horrifyingly ugly, it was just very boring and outdated. Remodeling on a budget means that everything couldn't be done, and the priority was to focus on what would give the the biggest bang for the buck. This led to tackling a couple main areas: change out the vanity light, update the vanity, re-paint, and upgrade the faucet.
One of the most significant parts of the remodel was selecting and installing a new vanity light. The rest of the home features rustic lighting and spanish lighting. However, for this bathroom in particular, it was decided to complement the home while maintaining a certain uniqueness to the bath by using a pewter vanity light with warm wall color tones. Thus, It was decided to design the bathroom around Golden Lighting's Brookfield 3 Light Vanity in the pewter finish. It was only $53.91 online plus $15 in shipping. The vanity light had a wonderful pewter finish that easily matched all of the brushed nickel and chrome bathroom accessories. Its classic style also provided a great focal point to choose all the other pieces for the bath. In combination with a dimmer switch for $40.00 online, it looked great. The dimmer switch adds extended life to the bulbs, can save energy, and provide ambient lighting to the bathroom.
The next step after selecting the lighting was to choose a new color for the wall. The drab blue walls needed to go. Painting was fairly pain-free, it was just a matter of choosing a new color that helped brighten up the bathroom space. The new color chosen was a yellow, tan-like color called Sunset Sand. The vanity mirror frame also needed repainting, so a black matte paint was selected. In total, paint was $35 with tax.
The final step was to buy a new faucet. Home Depot had a perfect faucet for $69.00. It was installed over the sink. Coordinating fabric was purchased at a craft store to be made into a skirt to hide the plumbing. It turned out well, was pretty inexpensive to make and best of all, it was easy. The sink skirt cost about $15 total.
That pretty much finished up the remodel. Add new towels and install the dimmer and the project was done. All in all $230 was spent! Not bad for a bathroom makeover!
###