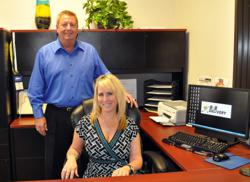 "The reason for the success of B2B Delivery in these tough economic times is our ability to give our customers a competitive rate without sacrificing customer service or technology", says co-founder Jim Lascio.
(PRWEB) September 06, 2011
Despite the nation's current economic slowdown, Arizona courier service B2B Delivery continues to show aggressive growth as it celebrates its second year in business, according to the business' co-founder Ria Robles.
"I am so proud our team here at B2B Delivery," says Robles. " Over the last two years, we have pulled together, worked hard and created a courier company that has not only been financially successful, but as a team we have created a company built around a family type environment where we all care about each other and our customers."
Robles says B2B Delivery opened their doors for business on August 3rd, 2009, and with a solid business strategy, a team of courier industry veterans and their dedicated employees, the business has gone from zero customers to annual revenues of $3.4 million in just two years.
Co-founder Jim Lascio says the reason for their success is keeping their focus on what is important to their clients.
"The reason for our success in these tough economic times is our ability to give our customers a competitive rate without sacrificing customer service or technology", says Lascio.
Lascio says B2B Delivery is a technologically advanced courier company that has a completely automated dispatch system that generates email proof of delivery to their customers. He says their system also has a 'state of the art' signature capture devices that upload signatures for deliveries in real time to their website.
"All ordering can be done online, customers can track orders in real time and they also have the ability to view usage reports on their account," says Lascio. "This leaves little room for error in our delivery system, and a lot of 'peace of mind' for our clients."
Robles says she is very pleased with the number of contracts B2B Delivery has secured with some very prominent companies in Arizona.
"I am honored that our clients include the Salt River Project (SRP), the Arizona Department of Juvenile Corrections, the Maricopa County Department of Public Health, St. Luke's Hospital, the Cancer Treatment Center of America, The Apothecary Shops and many others."
Lascio adds that one of the proudest moments for B2B Delivery over the last two years was securing a 3 year contract with Salt River Project here in Arizona. He said "Working with a locally owned company of their stature is a great feeling for us."
Lascio says it's great that SRP was willing to give a small, locally owned up and coming business a chance to show what they were capable of. "We have worked hard to serve them, and all of our clients, well over the last few years. And now it's paying off."
Lascio says it's opportunities like the one provided by SRP which have enable B2B Delivery to help the Arizona economy by hiring 10 full time employees, and provide work for over 50 independent driver agents who perform their deliveries throughout the state of Arizona and Las Vegas.
SRP has just bestowed yet another 'opportunity' on B2B Delivery by recently awarding Robles with one of their prestigious Small Business Leadership Academy Scholarships.
According to Dawn Feldman, executive director of the W. P. Carey School of Business Center for Executive and Professional Development at Arizona State University (ASU), "The classes in the academy are all aimed at providing tools to small business leaders to help them make better strategic decisions, improve efficiency, boost teamwork, streamline operations and raise profits,"
This will no doubt help Robles as she and Lascio develop their future plans for B2B Delivery. These plans involve both technology advancements and growth expansion into additional markets in the western region.
"Our goal is to continue to keep current with the ever-changing technology in their industry so we can give our courier clients the most reliable and useful information available," says Robles, "And then use that information to provide the best courier service in Arizona, Las Vegas and any other markets we expand to.
B2B Delivery is a leading Arizona courier service and is a member of the Tempe Chamber of Commerce, the Arizona Small Business Association, and The Messenger Courier Association of America.
For additional information please contact:
Ria Roble
ria(at)b2bdelivers(dot)com
480.446.2899
###