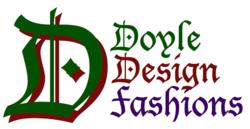 Denver, CO (PRWEB) September 06, 2011
Doyle Design Fashions announces the launch of its online store http://www.customvelvetjackets.com. Doyle Design Fashions exclusively sells men's custom velvet jackets where the customer is empowered to make their selection of colors and styling.
Offering Italian fabrics, customers design their own velvet jacket from 18 different colors that can be mixed among the jacket, pocket flaps, breast welt, lapel and collar. In addition, the customer can choose from 6 paisley liners, styling options such as notch or shawl collar and side or center vents, creating a jacket that is uniquely the buyers.
All Doyle Design Fashions jackets are made in the United States by a leading custom tailored manufacturer who utilizes the bespoke manufacturing process. Doyle Design Fashions take advantage of many of the manufacturer's finest options, resulting in a premium quality jacket. These features, which include cold shrunk canvas jacket construction, body lining completely finished by hand, hand stitched edges, handmade double stitched button holes and custom paisley lining, produce a jacket that will last for years.
Currently, a single line (Vintage) is available and is exclusive to the United States. Even though it is a single line, there are over 15,000 color and feature combinations available. Each Vintage jacket is limited edition to the model year with a maximum number of 1000 jackets.
"It's thrilling to see my vision come alive with the launch of Doyle Design Fashions," says owner and founder Andy Doyle.
"Being able to provide a unique look to the sometimes very standard offering of men's evening wear is long overdue. Our clients now have the chance to actively choose the color and style combinations unique to their taste allowing us to produce for them a classic jacket that feels comfortable and they can wear again and again. My jacket stands out at black-tie affairs and also looks great when I wear it with jeans to my favorite wine bar. The versatility is something our customers will love," continues Doyle.
About Doyle Design Fashions
Doyle Design Fashions specializes exclusively in men's velvet jackets made custom for the buyer following the bespoke manufacturing process. The customer is empowered to design their jacket from 18 different colors and fabrics along with multiple other features.
Selling primarily online, Doyle Design Fashions offers premium quality velvet jackets that are designed by the buyer with a tailored fit. Each jacket is unique and exclusively the buyer's jacket.
CONTACT INFORMATION:
Andy Doyle, President Doyle Design Fashions
andy(at)DoyleDesignFashions(dot)com
http://www.customvelvetjackets.com
303.912.4955
# # #