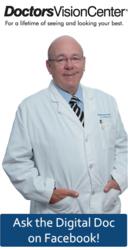 Rocky Mount, NC (PRWEB) September 01, 2011
Doctors Vision Center recently launched its new customized Facebook page which features the introduction of the Digital Eye Doctor program or what is being referred to as the "Digital Doc." This program demonstrates a creative use of social media as one of the only programs of its kind in the optical industry.
The Digital Doc program allows individuals and families easy access for answers on eye care, eye disease and other vision related topics by simply posting questions directly on Facebook. The questions are reviewed within 24 hours of being posted and answered by a North Carolina licensed doctor of optometry who practices at Doctors Vision Center. Dr. Ted Watson fills the role of Digital Doc. With 30 years of eye care experience, Dr. Watson continues to practice optometry and is well regarded by the industry, providing comprehensive eye care and treatment of ocular disease and injury. He continues to provide service to his community and currently serves as Chairman of the Board of Doctors Vision Center, OD, PA. In addition to interacting with the Digital Doc, visitors can find helpful eye care information, view promotions and even request an appointment without ever leaving Facebook.
"We are bringing 24 x 7 access for expert eye care advice to all the communities we serve and beyond. What is fantastic is that you do not have to be a Doctors Vision Center patient to interact with the Digital Doc," according to William Hollis, President of Doctors Vision Center. Interaction with the Digital Doc is as simple as visiting the Doctors Vision Center website or going directly to Facebook by clicking the "Ask the Digital Doc" link. Individuals or family members can post their questions and have reliable answers and advice within a few hours if not sooner in most cases. "Dr. Watson draws from past and current knowledge and experience which provides a valuable resource to the Facebook community. When Dr. Watson is not available we can draw on the expertise of any of our NC licensed optometrists from any of our 47 offices," added Hollis.
"Beyond the more prevalent vision problems such as near or far sightedness, the eyes are often a window into many health related issues. Social media has presented us the opportunity to not only promote healthy eye care but to make eye care advice immediately accessible to anyone who needs it," added Peter Hollis, Doctor Vision Centers' founder and Medical Director. "That is important to us and we know how important it can be to many families."
Along with giving feedback to Facebook inquiries, Dr. Watson posts weekly eye care information covering topics surrounding eye health and eye care. This information can be accessed through the Doctors Vision Center Facebook page as well. Visitors can also find up-to-date information on promotional offers and Digital Doc videos that will give you a look inside the eyes at common eye diseases and vision problems. "It is exciting to be able to reach out in this manner to those who need answers or information on eye care and eye health," said Dr. Watson. "I take my responsibility as the Digital Doc seriously because it is important that the people seeking answers to their questions know that there is a real optometrist behind the answer."
The Digital Doc can be accessed at http://www.facebook.com/doctorsvisioncenter or by going to the Doctors Vision Center website at http://www.doctorsvisioncenter.com. Anyone can post questions to the Digital Doc and anyone who has problems, no matter how small they may seem, are encouraged to reach out to Doctors Vision Center on Facebook.
About Doctors Vision Center
Based in Rocky Mount, North Carolina, Doctors Vision Center has 47 offices throughout North and South Carolina and specializes in family eye care. The company offers complete medical eye examinations and one of the most extensive in-office selections of contacts, frames, and lenses. All Doctors Vision Center offices offer the latest in eye care technology and diagnostic equipment and also have in-house certified frames stylists and opticians. Doctors Vision Center was founded in 1980 by Dr. Ted Watson and Dr. Peter Hollis, who currently serves as the company's medical Director. For more information on services, locations, doctors, online appointments, or current promotions, visit http://www.doctorsvisioncenter.com. Information about the practices and promotions as well as access to the "Digital Doc" for online answers on eye care or eye disease can be found on the company's Facebook page at http://www.facebook.com/doctorsvisioncenter.
###