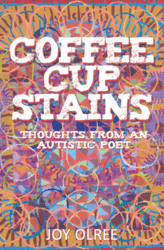 McKenzie, TN (PRWEB) September 02, 2011
According to the organization Autism Speaks, an estimated 1.5 million individuals in the U.S. are diagnosed with autism. This disorder however doesn't mean those diagnosead aren't capable of great things. This message is especilly relevant in the new poetry book Coffee Cup Stains: Thoughts from an Autistic Poet (published by Abbott Press) by Joy Olree.
Olree was born with autism. In Coffee Cup Stains, she writes about the absurdities in life and about her struggles with the disorder.
"My poems reflect how I see the world I live in," says Olree. "My goal in publishing this book of poems is if nothing else to let the world know that autistic people are not useless, and while we may behave differently, we are humans with feelings and can do many things."
From the poem, "Ragged Rise":
Ragged rise I see
man in all his glory
weathered worn but
whole, scattered torn
they roam sheltered
from life's storm.
Olree offers thought provoking poetry that will challenge people's views of those with autism. She says that "just because a person might be different does not mean they are useless. I have seen the most handicapped people do wonders."
About the Author
Joy Olree lives in McKenzie, Tennessee, and has three children and seven grandchildren. A Christian, Olree writes poetry and paints on canvas with acrylics using toothpicks. Coffee Cup Stains is her first poetry collection.
Abbott Press, a division Writer's Digest—the oldest and most respected publisher devoted to the education and advancement of writers—is an indie-publishing imprint dedicated to helping writers bring their literary vision to print. Author Solutions, Inc., a leader in indie book publishing, will fulfill publishing, sales, and marketing services for Abbott Press. For more information, or to begin publishing a book today, log on to abbottpress.com or call 866-697-5310.
###