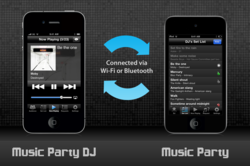 Music Party functions like a jukebox in the user's pocket.
Leiden, The Netherlands (PRWEB) September 05, 2011
Music Party DJ by Synendo is now available in the iTunes App Store. The app helps get the party started by enabling users to share their playlists while playing music at parties or social gatherings. It also enables friends who are attending the event and listening to the music to make requests and tell the DJ what they really think about what they're hearing by entering their votes. Music Party functions like a jukebox in the user's pocket, showing not only the songs that are coming up on the DJ's playlist, but also the DJ's entire music library.
There are two versions of the app. Music Party is the limited version, which is the companion app for Music Party DJ. With Music Party DJ, users create a set list from the songs they have in their iPod library. Then they invite their friends to connect to their device via their local Wi-Fi network or Bluetooth. Friends choose to connect via the full Music Party DJ version or the free limited version, Music Party.
Users of both versions can vote on the DJ's set list, request songs, and chat with friends about the music. However, the full version is required for those who actually want to be the DJ and play tunes for their friends. Both versions of Music Party were developed by independent software developer Synendo.
Synendo founder Marco Henkes says, "I wanted to make an app that was about more than just music. Listening to music is a social activity, but I felt that the other apps on the market did not do justice to the social aspect of enjoying music together."
Both Music Party and Music Party DJ work on the iPhone and the iPod touch and are available worldwide exclusively through the iTunes App Store. The first two weeks after the launch of the apps, the company will offer Music Party DJ at a 33 percent discount. It will sell for $1.99 USD instead of its regular price of $2.99 USD. The offer ends September 18. Music Party is the free limited version of the app.
About Synendo
Synendo is an independent software developer in the Netherlands that specializes in apps for iOS devices. The company's first creation was Didakto, an educational iPad game for schoolchildren (offered at a 50% discount during Music Party DJ's promotion period). Review copies of Music Party DJ are available upon request.
# # #