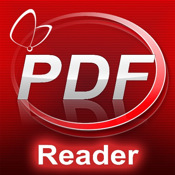 PDF Reader - iPad Edition: Carry All That You Can Read
(PRWEB) September 01, 2011
Kdan Mobile, a leading mobile application developer and publisher, has announced a major update for its popular reading application, PDF Reader – iPad Edition. To further enhance users' mobile reading experience on iPad, PDF Reader – iPad Edition 1.6 added a brand new user interface and the optimized annotation toolbar, which offers users an instant access to various markup tools. The new version also provides convenient cloud storage options, including FTP and GoogleDocs online editing. Finally, support to PDF form filling, RAR files, and comic book archives (ePub/CBR/CBZ) has also been added to the app.
To familiarize users with the new interface, Kdan Mobile has produced a tutorial video of PDF Reader – iPad Edition 1.6, which is now available on the company's YouTube channel. The company also revealed its plan to update PDF Reader - (File Scanner, File viewer, File Storage) designed for iPhone and iPod Touch. The update is scheduled to be released in early September, and will provide full functionality of its iPad counterpart.
Listed in the Top 10 Utility apps on more than 40 iTunes App Stores including US, UK, Canada, Italy, and Australia, PDF Reader – iPad Edition has proven itself to be the ultimate mobile reading solution for iPad users. Its biggest strengths, as pointed out by reviewers worldwide, are fast rendering speed and easy navigation which make it effortless to scroll through pages when viewing all major kinds of files. Furthermore, PDF Reader – iPad Edition is recognized for its powerful annotation features, easy file transfer, and the built-in scanner, which are of great benefit to both business and educational users.
Device Requirements:

Compatible with iPad
Requires iOS 4.0 or later
26.5 MB
Pricing and Availability:
PDF Reader – iPad Edition 1.6 is $4.99 USD (or equivalent amount in other currencies) and available worldwide exclusively through the App Store in the Utility category.
Links
PDF Reader – iPad Edition http://pdf-reader.kdanmobile.com/
Purchase and Download http://itunes.apple.com/app/id367816156
YouTube Video http://www.youtube.com/watch?v=-PdZenMDFBo
Screenshots 1 http://a1.mzstatic.com/us/r1000/117/Purple/b3/19/b7/mzl.orhqqymf.480x480-75.jpg
Screenshots 2 http://a2.mzstatic.com/us/r1000/075/Purple/c7/b3/9e/mzl.nrnodohc.480x480-75.jpg
App Icon http://a3.mzstatic.com/us/r1000/016/Purple/2e/65/02/mzl.buvrgsdv.175x175-75.jpg
About Kdan Mobile Software
Kdan Mobile Software is a company specializing in mobile application development. Kdan aims to bring a ubiquitous mobile operating environment to end users by providing innovative service and powerful technology. © 2011 Kdan Mobile Software Ltd. All Rights Reserved.
Contact Information
Kelly Pai
Kdan Mobile Software Ltd.
886-6-3131660 #229
pr(at)kdanmobile(dot)com
Leah Kao
Kdan Mobile Software Ltd.
886-6-3131660 #230
pr(at)kdanmobile(dot)com