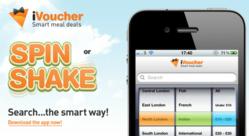 iVoucher's new mobile app makes it really easy for Londoners to search and find restaurant vouchers that have been created by the restaurateurs themselves, to reward existing customers and encourage new customers to try their menu
London, UK (PRWEB UK) 12 September 2011
iVoucher has launched a new mobile application that brings the best restaurant deals to food loving Londoners.
The app, which works on iPhone and Android phones, offers a unique and fun way for Londoners to find restaurant vouchers across the city. Users can 'spin' the search dials to find a deal that suits their taste, or 'shake' to be displayed a random suggestion that is close to their chosen location.
"We're putting the fun back into finding a great value restaurant deal", said Chris Underhill, CEO at iVoucher. "iVoucher's new mobile app makes it really easy for Londoners to search and find restaurant vouchers that have been created by the restaurateurs themselves, to reward existing customers and encourage new customers to try their menu", he said.
iVoucher app users can search and a buy deal directly from their phone and instantly share it with friends and family; perfect for planning a night out or a spur of the moment meal. With vouchers covering all levels of budget and types of cuisine, from fine dining deals in London's prestigious venues to burger and a beer deals just around the corner, the iVoucher app lets Londoners enjoy the best of what the city's restaurants have to offer.
The iVoucher app and website are dedicated to restaurant deals; giving foodies access to relevant deals where and when they want them, from restaurants that want them as customers.
Available for the London Restaurant Festival, the app also includes festival menu vouchers as well as details of the special festival events taking place across the city from the 3rd to 17th of October.
Visit http://www.ivoucher.com/app to download the app and get your meal deals – the smart way.
###