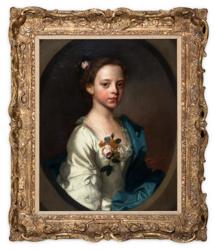 (PRWEB) September 05, 2011
A rare 18th Century painting with close connections to the American War of Independence will be one of the star attractions in a sale of fine art at McTear's Auctioneers in Glasgow, Scotland this September.
The auction house has stated that the stunning work by Scottish portrait painter Allan Ramsay (1713-1784) is the only known painting of the artist's daughter, Amelia, who was married to General Sir Archibald Campbell of Inverneil, one of the most prominent British officers in the American War of Independence.
Ramsay is considered one of the finest portrait painters of the 18th Century and the oil on canvas, which was painted circa 1770, is expected to fetch between $50k and $80k when it comes up for auction on Tuesday 27th September.
Campbell was a key figure in the War and led a successful expedition against the state of Georgia. He was also held as a prisoner of war and after correspondence between George Washington and King George III he was eventually the subject of a prisoner exchange for American Revolutionary War patriot, Ethan Allen.
Sir Archibald and Lady Amelia Campbell are buried in Poets Corner, Westminster Abbey, next to Handel's Memorial.
Commenting on the work, Brian Clements, Managing Director at McTear's Auctioneers, said: "This painting by Allan Ramsay has not been seen in public for a very long time and bearing in mind its subject matter and close connections with the American War of Independence it is likely to attract considerable attention from both sides of the Atlantic."
Also appearing in the McTear's sale will be a stunning work by English artist, Sir Alfred Munnings (1878 – 1959) - one of the world's greatest equine painters and a long time favourite amongst US art collectors.
The 24 x 20 inch oil on canvas, Zennor Hill, is a classic Munnings work, featuring horse and hounds in a traditional English hunting scene. The painting has been valued at between $130k and $200k.
Munnings has enjoyed huge popularity in the United States with a number of his paintings achieving several million dollars at auction. The world record auction price for the artist was established in New York in 1999 when a collector paid almost $8 million for one of his paintings.
Brian Clements, added: "Sir Alfred Munnings is considered one of the most accomplished British artists of the 20th Century and examples of his work can be found in many of the most prestigious galleries in the world and in numerous high profile corporate and private collections. The condition of both these paintings is quite exceptional and we've deliberately valued them conservatively to attract maximum interest."
Both the Sir Alfred Munnings and Allan Ramsay works were part of the estate of wealthy Scottish businessman and philanthropist, Charles Hepburn, who died in 1971.
The McTear's Autumn Fine Paintings sale will take place in Glasgow, Scotland, UK on Tuesday 27th September at 6.00pm (UK time). Further information can be found at http://www.mctears.co.uk.
Issued on behalf of McTear's Auctioneers by Wave PR. For further information or images of the pictures contact Chris Bell on Tel: 44 141 225 0400 Mobile: 07974 692 330, email: chris(at)wavepr(dot)co(dot)uk.
###