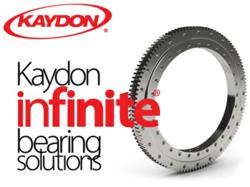 Muskegon, Michigan USA (PRWEB) September 01, 2011
Kaydon Corporation Bearings Division will be among hundreds of companies exhibiting at the Bluefield Coal Show on September 14-16, 2011, in Bluefield, W. Va.
Kaydon's booth, #608, will feature Kaydon slewing ring bearings. Kaydon slewing bearings are preferred by some of the top OEMs and operators in both the surface and underground mining industries.
With diameters of up to 240" (6.1m), Kaydon slewing bearings are ideal for shovels, excavators, hauling vehicles, continuous miners, roof bolters, and other mining equipment. Bearings are readily available from ISO 9001:2008 certified plants in Ohio, South Carolina and Mexico.
Kaydon also repairs bearings, regardless of original bearing manufacturer.
"Bearings repaired by Kaydon perform as new, at a lower price than a new unit, with workmanship and quality equal to or better than new," said Ron Shaw, remanufacturing manager. "We also offer new replacement bearings. Either way, we can offer reduced pricing, with a one-year warranty, and no trade-off in performance." For more information, visit http://www.kaydonbearings.com.
The Bluefield Coal Show displays new equipment and innovative technology in the coal industry. The show is sponsored by the Greater Bluefield Chamber of Commerce. To register, visit http://www.bluefieldchamber.com.
Kaydon Bearings, a division of Kaydon Corporation, is the North American slewing ring bearing leader in the most demanding markets. Kaydon is also a leading global supplier of thin section and remanufactured bearings. Kaydon infinite™ solutions meet the most exacting specifications of the aerospace and defense, heavy equipment, industrial machinery, medical systems, renewable energy, and semiconductor manufacturing markets.
###