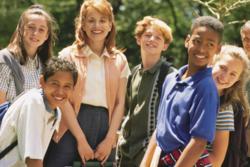 56% of students have personally witnessed some type of bullying at school.

(PRWEB) September 01, 2011
One-hour TeleClasses packed full of tips, strategies and how-to's for busy counselors, educators and school administrators on the topics that matter the most. Topics include Dealing with Bullies, Working with Problem Parents, Building a Peaceful School, Bully Proofing Your School and more!
Using breakthrough technology that combines the ease and reach of mass media with the engagement and excitement of live events For KidSake now offers training in a format that allows real-time conference events from the convenience of your home or office. This technology offers significant savings in two valuable resources; time and money.
About For KidSake: Our lead trainer, Martin Fleming, is a dynamic speaker who has authored 10 books based on his lifelong experience working with kids in schools and clinical settings. He has addressed the United Nations, and has been interviewed in national media, such as The Early Show, National Public Radio and CNN.
###