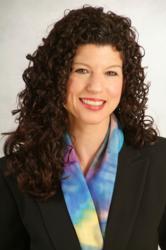 "If I knew as a teenager how to eat better…I would have been able to regulate my weight, hormones and menstrual cycle. And I would have been able to get pregnant when I wanted to," says Annie Gallardo of Watertown, CT.
Norwalk, CT (PRWEB) September 01, 2011
This September, as part of Polycystic Ovary Syndrome (PCOS) Awareness Month, Reproductive Medicine Associates of Connecticut (RMACT) is advocating health and wellness changes that improve PCOS patients' overall health. PCOS affects 5 – 10 percent of women of reproductive age, and while there is no cure, the team at RMACT has seen significant results when patients adapt a comprehensive approach to treatment: nutrition, fitness, mental health and endocrinology.
"Infertility is one possible outcome of PCOS," says Dr. Mark Leondires, medical director and lead infertility doctor with RMACT. "Typically our patients come seeking help getting pregnant, however, our first step after a PCOS diagnosis is to help them improve their overall health. This includes improving their nutrition to manage their insulin production, as well as encouraging exercise, monitoring their hormone levels and providing emotional support."
Left untreated, PCOS patients have an increased risk of endometrial cancer, diabetes, heart disease, cholesterol abnormalities, weight gain and infertility. As little as a 5 percent reduction in weight can lead to more regular ovulatory cycles, improved insulin sensitivity, and weight loss when recommended in many PCOS patients. The benefits are clear; however, learning and implementing the necessary lifestyle modifications requires a multispecialty approach and emotional support.
"If I knew as a teenager how to eat better…I would have been able to regulate my weight, hormones and menstrual cycle. And I would have been able to get pregnant when I wanted to," says RMACT patient Annie Gallardo of Watertown, CT, who greatly improved her insulin resistance, lost 63 pounds and got pregnant once she started managing her PCOS. "I couldn't have made these big changes without Carolyn [Gundell]!"
RMACT's comprehensive program includes nutrition seminars and PCOS peer support groups that are free and open to the public. Through the nutrition seminars, patients learn from Carolyn Gundell, MS, how to optimize their health to manage PCOS symptoms and practical tools such as how to read nutrition labels and grocery shop for healthy foods. The PCOS peer support groups are led by Gundell and Jane Elisofon, M.S.W. to address the nutritional and emotional needs of their patients. These support groups are divided based on the patients' situations and interests; for example, some groups are filled with women seeking fertility treatment while others are comprised of teens. In addition, RMACT offers one-on-one counseling with Elisofon and psychologist Lisa Tuttle, Ph.D.
Following is a list of complementary seminars and peer support groups. For more details and a complete list of RMACT events, go to http://www.rmact.com/events/.
PCOS: Women to Women Support Group for Fertility Patients
Mondays at 6:00 p.m. September 12, October 3, November 7, December 5
898 Ethan Allen Highway, Suite 5, Ridgefield
PCOS & You: Teens to 20's Support Group
Mondays at 6:00 p.m. September 19, October 17, November 28
898 Ethan Allen Highway, Suite 5, Ridgefield
Improve Pre-conception Health & PCOS Symptoms with the Fertility Diet
Saturday, September 10, 8:15 a.m.
RMACT Office; 10 Glover Avenue, Norwalk
The Fertility Diet and PCOS
Tuesday, September 20, 7:00 p.m.
RMACT Office; 67 Sand Pit Road, Suite 300, Danbury
About RMACT
Reproductive Medicine Associates of Connecticut (RMACT) specializes in the treatment of infertility. With Connecticut fertility clinics and egg donation offices in Norwalk, Danbury and Greenwich, and affiliate New York fertility clinics serving Westchester, Putnam and Dutchess counties, our team of Board-Certified Reproductive Endocrinologists offer a wide range of infertility treatments from ovulation induction and intrauterine insemination (IUI) to the most advanced assisted reproductive technologies including in-vitro fertilization (IVF), egg donation and its own cutting-edge procedure called Comprehensive Chromosomal Screening (CCS), a form of preimplantation genetic diagnosis (PGD). RMACT offers individualized infertility treatment plans in a patient-focused and supportive environment. Support services, such as, psychological counseling, acupuncture and yoga are also available through RMACT Integrated Fertility & Wellness Program, as well as infertility treatment financing.
The RMACT team of fertility doctors includes Drs. Mark P. Leondires, Spencer S. Richlin, Joshua M. Hurwitz and Cynthia M. Murdock. All physicians are members of the American Society for Reproductive Medicine (ASRM), the Society for Assisted Reproductive Technology (SART) and the Fairfield County and Connecticut Medical Societies. RMACT's IVF laboratory is accredited by the College of American Pathologists (CAP), and CLIA; other accreditations include the Accreditation Association for Ambulatory Health Care (AAAHC) and the American Institute for Ultrasound in Medicine (AIUM). For more information visit http://www.RMACT.com.
###