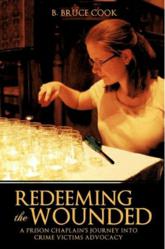 Atlanta, GA (PRWEB) September 06, 2011
In 2009 approximately 15,241 people were murdered in the USA and many relatives and friends are grieving over the loss, according to the 2011 NCVRW Resource Guide. Many faith-based organizations want to help but do not know how. The nation will soon remember the fallen in September 11 services and memorials. A new way of viewing and solving the problems faced by crime victims is discussed in the movie script, called Down But Not Out, based on the book, Redeeming the Wounded, by B. Bruce Cook (http://www.amazon.com). The new vision of victim's justice that Rev. Dr. Cook envisions involves a concept of fair and equal treatment for crime victims and for prisoners based on principles of restorative justice, restitution and enhanced rights for crime victims. The movie is inspired by true events based on two female homicide co-victims who become friends and change two laws to improve the rights of crime victims in Georgia. The movie explores their journey through stages of grief and disappointment when the justice system lets the female co-victims down. They then decide to change the system.
B. Bruce Cook, the author, is a career corrections professional and crime victims advocate, (http://www.cvaconline.org) who worked "both sides of the street" in prison and in the community with crime victims. He was a county jail chaplain, federal prison chaplain and a chaplain for crime victims. He worked in four agencies with the USDOJ for a total of 24 years. He directed the Georgia Department of Correction's Impact Therapeutic Program in two halfway Houses. He recommends a Call To Action:
-- a national cadre of 2500 trained chaplains who could minister to and respond to crime victims in their community and to any national emergency involving mass terrorism.
-- more emphasis on restitution and community service for all criminal offenses which is the heart and cornerstone of restorative justice. Also, improvements of protocols in collecting restitution are recommended.
-- the use of support groups in faith based organizations for victims of stalking, domestic violence , homicide and DUI fatalities, rape and violent offenses.
-- crime victims rights in each state that includes some form or remedy if the rights are violated by the state.
-- the expanded use of diversion programs for non-violent programs that include sentencing circles, victim-offender mediation and dialogue as an alternative to incarceration which will use scarce prison space for the more violent predators.
Dr. Cook says that, "It is a tremendous inequity to minister to prisoners and their families and not to crime victims and their families." Readers and faith- based organizations are told direct ways they can help crime victims and prisoners. While there are books on prison ministry there are very few movies or books on ministry to crime victims. The book includes stories from 9 actual crime survivors and the new movie script builds on two true stories from the nine in the book.
CONTACT:
B. Bruce Cook
770-639-9585
http://www.cvaconline.org
askcvac(at)aol(dot)com
###