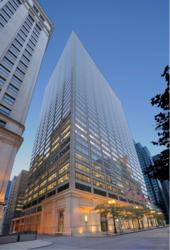 Our goal is to allow attorneys to gain the networking benefits of sharing office space with other attorneys without the liability of merging their firm.
-- Ron Bockstahler, CEO Amata Office Centers
Chicago, IL (PRWEB) September 07, 2011
Amata Law Centers has opened up their first center catering to the legal community in Chicago. Conveniently located in the heart of downtown at 180 North LaSalle, Amata has taken the entire 22,000 square foot, thirty-seventh floor and turned it into a luxurious office space with 70 individual offices and secretarial work stations ranging from 110 to 400 square feet.
While Amata Office Centers has five other successful locations in Chicago and Naperville, this new law center will primarily focus on amenities for attorneys. "With more than 200 attorneys as clients, the need became obvious for specialized services catering to the legal community," said Ron Bockstahler, CEO of Amata Office Centers. "Our goal is to allow attorneys to gain the networking benefits of sharing office space with other attorneys without the liability of merging their firm."
Paul Goodman has been a solo practicing attorney in Chicago since 1993. For many years he shared traditional space with a number of other lawyers, however he jumped at the chance to have an office with Amata Law Centers. "Moving my practice to this new space was a great decision for my business," said Paul Goodman of Law Offices of Paul Goodman. "The location can't be better, and the staff and services here make it easy and cost effective for me as a sole practitioner to run a full-service firm. Not to mention that this office allows me to project an image to my clients and colleagues which is priceless."
Amata Law Centers has the very look and feel of a large law firm with private deposition rooms and secretarial work stations throughout the floor along with secure document file storage rooms. Trained legal staff and paralegals are on hand to help with any necessary projects and research, court filing, and document review. Each Amata client has access to these features, including video conferencing, an electronic library, extended receptionist hours from 8:00 AM to 7:00 PM Monday through Friday, as well as use of each Amata location throughout Chicago.
# # #