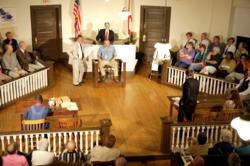 The list of what's new relating to tourism in Alabama includes more than 40 venues across the state since January of 2011.
Montgomery, Ala. (PRWEB) September 01, 2011
A Freedom Rides Museum, Black Belt Culinary Trail, tours of a goat cheese farm and a hurricane- proof Gulf Coast Zoo are among the list of what's new in tourism across Alabama.
The state tourism department has compiled a list of new tourism-related events, attractions, restaurants, hotels, shopping and entertainment. The list includes more than 40 venues that have opened, been updated or are under development as of January 2011. Below are of few of the listings, for the full list please follow the link to the media room at Alabama Travel.
Attractions:
Culinary Trail — Alabama Black Belt
The Southwest Alabama Office of Tourism and Film has developed a Culinary Trail with off- the-Beaten-Path destinations, local food specialties, and unique Black Belt cultural experiences. Visitors can take a self guided tour or groups of up to 12 can call the tourism office to plan a custom tour that includes stays in antebellum and depression-era Bed and Breakfasts. A visit to at least one private home for a farm-to-table dinner is included in the package. 334.636.5506, http://www.alabamafrontporches.com
The Anniston Civil Rights & Heritage Trail — Anniston
The museum opened in May of this year during the 50th anniversary of the Freedom Rides. It houses two life-size murals in the alleyways of the old Greyhound and Trailways bus stations depicting the events relating to the first attack upon the Freedom Riders. Plans are currently underway for the development of a Freedom Riders Park in Anniston. http://www.spiritofanniston.org
Southern Broadway Opens Dinner Theatre — Enterprise
Southern Broadway, best known for their production of "The Depot", an original off-Broadway play, is opening a dinner theatre on North Main Street in Downtown Enterprise. Southern Broadway and Southern Charm Catering will present at least 5 dinner theatres in 2012. The next scheduled dinner theatre is "The Confederate Letters," a story of two soldiers in the Confederate Army. 334.470.6568, http://www.southernbroadway.com.
World's First Environmentally Sustainable Zoo — Gulf Shores
The Alabama Gulf Coast Zoo is the first in history being built from the ground up that will define every aspect of the term "Green." Scheduled to open in spring 2012, the zoo will also be almost entirely "hurricane‐proof" by being constructed to withstand category 5 hurricane winds. It will be LEED Platinum certified (national benchmark for the design, construction and operation of green buildings). It will be constructed of non-toxic, organic, biodegradable and recyclable materials. It will use an array of alternative power sources using solar panels, wind turbines and geothermal energy. The future site of the zoo will be located at 20499 Oak Road in Gulf Shores. http://www.alabamagulfcoastzoo.org
Alabama Gold Camp — Lineville
Located in the heart of Alabama's gold belt visitors can search for gold with miles of creek to pan. You can also find red garnets, fossils, citrine, and Native American artifacts on the property. 256.396.0389, http://www.alabamagoldcamp.com.
Freedom Riders Museum — Montgomery
Montgomery's historic Greyhound Bus Station on Court Street features the Road to Equality – The 1961 Freedom Rides art exhibit. "Share Your Story," an interactive video exhibit, captures thoughts and feelings from riders, witnesses and museum visitors. Admission charged. Call to schedule tour. 334.242.3184 http://www.freedomridesmuseum.org.
Land of Alabama and The First Alabamians exhibits— Montgomery
The two new exhibits at the Alabama Archives and History Museum tells the story of the earliest days of Alabama history. The Land of Alabama exhibit includes a multimedia introduction the geography and natural resources like cotton and iron ore that shaped the state. The First Alabamians exhibit tells the story of the Native Americans from prehistory to 1700 with artifacts, interactive maps and murals. The exhibits are open Mon. - Sat. 8:30a.m.– 4:30p.m. http://www.archives.alabama.gov
Arts & Antiques Trail — Monroeville/Monroe County
Alabama's Literary Capital has become an arts and antiques destination. Around the downtown square visit three art galleries, a pottery studio, and Beehive Coffee & Books that feature Alabama authors. Make Monroeville your base as you explore other offerings in this county featuring art, antiques and small town atmosphere. Also visit the Monroe County Heritage Museum, in Monroeville's old courthouse, and visit its gift shop, newly remodeled and enhanced with a fine selection of regional arts offerings. 251.743.2879, http://www.monroecountyal.com
New Amphitheatre at the historic Monroe County Courthouse — Monroeville
Visit in the spring each year for the nationally acclaimed performances of "To Kill A Mockingbird" on Monroeville's Historic Courthouse Square in the newly enhanced amphitheatre, a community project by Georgia Pacific debuting in 2012.
251.743.2879, http://www.tokillamockingbird.com.
Civil Rights Interpretive Center — Selma
The Selma Interpretive Center, located at the foot of the Edmund Pettus Bridge, serves as the Welcome Center to the trail that includes stops in Lowndes County and Montgomery. The center offers video, exhibits and a small bookstore. It opened on March 2, 2011 and is open daily from 9 a.m. – 4:30 p.m. http://www.nps.gov/semo/planyourvisit/things2do.htm
Events:
The Year of Alabama Food — statewide
The Year of Alabama Food is back in 2012 and the year will bring new dishes, restaurants a new 100 Dishes to Eat in Alabama Before You Die brochure and a BBQ Trail. 1.800.ALABAMA, http://www.alabama.travel.
100 Alabama Road Trips — statewide
Experience the state like never before in 2012 with ideas for "100 Alabama Road Trips." From adrenaline pumping tours to girlfriend getaways and back-road treasures, visitors will discover an unforgettable adventure. 1.800.ALABAMA.
October Fest and BBQ Cook-Off — Rogersville
Rogersville will host its first ever BBQ Cook-Off at the city's recreational park Oct. 14-15. The backyard cookers will be competing for points in the Alabama BBQ Associations Governor's Cup. Visitors can also enjoy bluegrass and country music. 256.431.8983, landers256833(at)bellsouth(dot)net.
ACCOMODATIONS:
Westin Huntsville Honored with AAA Four Diamond Rating — Huntsville
The Westin Huntsville at Bridge Street Town Centre once again received the AAA Four Diamond Award. The Westin Huntsville's rating of the prestigious Four Diamond Award through 2012, is given to only 7 hotels in the state of Alabama and account for less than 3.8 percent of the total 59,000 AAA/CAA Approved and Diamond Rated lodgings.
The hotel also received the Reader's Choice Award by ConventionSouth Magazine – a highly coveted award as it is nominated by meeting planners for top meeting sites. 256.428.2000
ENTERTAINMENT:
Lone Goose Saloon — Huntsville
This is an eclectic establishment where Nashville bar and artist gallery meets New Orleans-style bar. Colorful paintings hanging on the wall were created by business partner Margaret Poole and are available for purchase. 256.715.0705, facebook.com/lonegoosesaloon
FOOD/RESTAURANTS:
Belle Chevre Creamery Tours — Elkmont
By popular demand, Belle Chevre has started scheduled tours for small groups to their Elkmont, Alabama creamery. Scheduled tours take place every Wednesday for small groups. The tours include a guided explanation of how the different varieties of chevre cheese are made.
For nearly 20 years Belle Chevre has been hand-crafting fine French style goat's milk cheeses in rural Alabama. The winning recipe has, to date, garnered almost 100 national awards from American Cheese Society and other famed institutions. It has been recognized as some of the finest fromage by the likes of Food Network Magazine, O!, Southern Living, Cooking Light and more. Owner Tasia Malakasis is the head cheesemaker. Tours can be booked by calling 256.423.2238, http://www.bellechevre.com.
Internet/ Media:
10 Best Towns for Families — Fairhope
Family Circle magazine named Fairhope, Alabama one of its 10 Best Towns for Families in the August 2011 issue.
Money Magazine Best Places to Live — Madison
Money magazine named Madison, Alabama as one of its Top 100 Best Places to Live in the U.S.
http://money.cnn.com/magazines/moneymag/bplive/2011/snapshots/PL0145784.html.
America's 10 Best Winter Beach Retreats — Orange Beach
Budget Travel Magazine named Orange Beach a Top 10 Winter Beach Retreat.
"Alabamians are adamant that their Gulf Coast beaches are among the most beautiful in the country. The sand is 95 percent quartz, meaning its snow-white and sparkles in the sun, and the waters are as blue as any you'll find in Florida. Dolphins love the waters around here so much that Dolphin Cruises aboard the Cold Mil Fleet guarantees sightings."
RECREATION:
Piedmont Plateau Birding Trail — Alexander City
The new birding trail covers the nine counties of Autauga, Chambers, Chilton, Clay, Coosa, Elmore, Lee, Randolph and Tallapoosa. It encompasses more than 3.6 million acres of natural wildlife habitat. Watchers can look for highway signs with the Great Horned Owl leading to the trail. 256.234.3461, http://www.piedmontplateaubirdingtrail.com
Metro CrossPlex, — Birmingham
Birmingham's new indoor track and field facility, natatorium and meeting space features an indoor pool, a hydraulically banked 200-meter track, and space for pole vaulting, high jumping or nine volleyball courts. The $46 million project is almost booked for its inaugural track and field season. 205.612.7730
Patriot Riding Stables and Retreat — Cheaha
Located on a 40 acre fully stocked lake at the foot of Cheaha mountain in Clay County, Patriot offers 18 horses for riding the trails, lodging, boating, fishing and zip lining. The main lodge is approximately 4,000 SF and boasts a full kitchen, state of the art electronics for presentations, high speed internet, satellite TVs, and can sleep up to 20 guests in 3 separate bunk rooms. Six suites and cabins are available for guests along the lake near the fishing docks. The retreat offers guests a place for weddings, receptions, reunions, meetings, conferences, retreats and family vacations. Patriot sponsors the Wounded Warrior Program (WWP), the VFW and other veteran activities. 256.618.1363, http://www.patriotretreat.com, info(at)patriotretreat(dot)com.
Gulf State Park Unveils New Pool, Campground Facilities — Gulf Shores
Gulf State Park in Gulf Shores underwent a $4.5 million renovation. The renovations include a 5,000-square-foot swimming pool, splash pad, dressing area and restrooms. A new nature center replaced the one destroyed by Hurricane Ivan. The campground store, laundry facility, and boat docks on Middle Lake were also renovated. Rental boats will be added in the future, while a classroom area and small amphitheatre will be added to the nature center to accommodate school groups. 251.945.6889, http://www.outdooralabama.com.
For more information at events, attractions, and accommodations in Alabama visit http://www.alabama.travel.
###