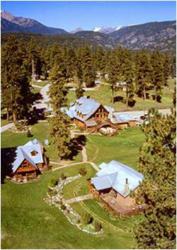 Investment opportunities like this only come around every so often. Wit's End is ideal for resort property investors and developers alike.
Kansas City, Mo. (PRWEB) September 01, 2011
Colliers International and United Country – Mountain Properties of Pagosa Springs, Colo., have joined forces to sell famous Wit's End Resort & Spa located in the southwest portion of the state. This ranch is located on Vallecito Lake and is surrounded by 2 million acres of national forest, as well as another 675,000 acres of wilderness and mountain ranges. It is located approximately 30 minutes away from Durango, Colo., a much sought-after tourist destination.
"Investment opportunities like this only come around every so often," said Lisa D Hayes, broker and owner of United Country – Mountain Properties. "Wit's End is ideal for resort property investors and developers alike."
The complex is a complete operating dude and guest ranch spanning approximately 412 acres. It is a self-sufficient property featuring 19 cabins, a guest reception lodge with a resort-style and a full-service spa. The "Old Lodge at the Lake" has a fine dining restaurant and tavern. The convention center is the largest in the four-county region with over 7,200 square feet, plus a 3,000-square-foot mezzanine. It has hosted groups such as Land Rover, Chrysler, American Express, Phillip Morris and more. Additional amenities include a relaxing swimming pool, hot tubs, tennis courts and more. The ranch provides a plethora of recreational opportunities including horseback trail rides, rafting, hiking, alpine fishing, sightseeing and hunting.
Purchase options include:

Five trophy-ranch parcels – two with high-end homes
Wit's End Resort Guest Ranch – a full dude ranch with fine dining restaurant and full-service spa
Land with investment potential – Up to 360 undeveloped acres
Bulk purchase – roughly 412 acres with Wit's End Resort and amenities, plus two luxury homes
In addition to the property, there are available senior water rights dating back to 1880, according to the owner. There are also numerous springs, creeks, ponds and forest service permits for over a million acres of national forest. This was at one time the only Orvis-endorsed guest ranch in the nation.
Property details and photos can be found at http://www.coloradotrophyretreats.com. To get in contact with Colliers International, call Cindy Cooke, executive vice president, at 602-222-5039; Brad Cooke, senior vice president, at 602-222-5088; or Carrie Burton, marketing associate, at 602-222-5076. United Country – Mountain Properties can be contacted at 970-731-8800 for additional information or property showings.
About Colliers International
Colliers International is the third-largest commercial real estate services company in the world with 12,500 professionals operating out of more than 500 offices in 61 countries. A subsidiary of FirstService Corporation, it focuses on accelerating success for its clients by seamlessly providing a full range of services to real estate users, owners and investors worldwide, including global corporate solutions, brokerage, property and asset management, hotel investment sales and consulting, valuation, consulting and appraisal services, mortgage banking and research. Commercial Property Executive and Multi-Housing News magazines ranked Colliers International as the top U.S. real estate company and the latest annual survey by the Lipsey Company ranked Colliers International as the second most recognized commercial real estate brand in the world.
About United Country
United Country Real Estate is the largest fully integrated network of conventional and auction real estate professionals in the United States. The company has been an innovator in real estate marketing since 1925. United Country supports nearly 600 offices across the U.S., Costa Rica, Panama and Mexico, with a unique, comprehensive marketing program that includes one of the largest portfolios of property marketing websites (more than 3,000 separate sites with aggregate traffic of approximately 3 million visitors per month), multiple proprietary real estate catalogs with a cumulative distribution of 1.5 million readers, an extensive, current buyer database and national advertising of properties that reaches more than 90 million homes per week. United Country has recently been recognized by AllBusiness.com, The Land Report, Entrepreneur and The Wall Street Journal as one of the top U.S. real estate companies.
###