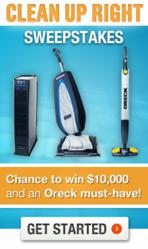 At Oreck, we're all about making clean easy. So we welcome the opportunity to show folks the value in our durable, easy-to-use products and how they can address their specific cleaning needs," says Scott Vogel, Oreck's Chief Marketing Officer
Nashville, TN (PRWEB) September 01, 2011
If consumers are willing to "dish the dirt" about their home-cleaning habits, Oreck is ready to reward them for sharing the dirty details.
Oreck Corporation, a leading manufacturer of quality vacuums, air purifiers, steam mops and other cleaning products, has launched Clean Up Right Sweepstakes, a survey-driven promotion that encourages homeowners to "come clean" about their struggles to keep a tidy house. In return for taking the five-question online survey, participants are entered for a chance to win an Oreck product such as a vacuum cleaner, an air purifier or a steam mop, as well as a $10,000 grand prize.
"At Oreck, we're all about making clean easy. So we welcome the opportunity that this promotion presents to show folks the value in our durable, easy-to-use products and how they can address their specific cleaning needs," says Scott Vogel, Oreck's Chief Marketing Officer.
Sweepstakes participants are encouraged to log in to the contest site daily at http://www.oreckcleanup.com to increase their chances for winning the $10,000 grand prize as well as the product prizes. (Entries do not carry over from week to week.)
The promotion runs from August 18 through September 30.
Six winners will be selected each week during the six-week long contest to receive one of the following Oreck products:

Oreck® Professional Series Pilot™ Vacuum
Oreck ProShield® Plus Air Purifier with Helios Shield®
Oreck Steam-It® The All Purpose steam mop
The Clean Up Right Sweepstakes can also be found on Facebook .
Visit http://www.OreckCleanUp.com for more information, including Sweepstakes FAQ and official rules.
About Oreck
Headquartered in Nashville, Tenn., Oreck Corporation is a leading manufacturer
in the homecare industry, offering a variety of vacuum, air purification and
other cleaning products. Oreck sells its products in hundreds of Oreck Clean Home Centers, as well as through phone and online direct sales. The company distributes products in the U.S., Canada and parts of Europe. For more information, please visit http://www.oreck.com.
###