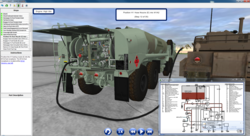 DiSTI has produced an outstanding life like, detailed trainer that 100% emulates all the functions of the HEMTT Tanker.
Orlando, FL (PRWEB) September 08, 2011
The DiSTI Corporation, a worldwide developer of state-of-the-art virtual displays, has successfully delivered a high fidelity and highly interactive training application for the HEMTT M978 Tanker to the Oshkosh Corporation. With this application, students are effectively trained on the fueling and de-fueling procedures of the Tanker virtually allowing Oshkosh to drastically reduce overall training time and increase student comprehension and throughput.
As a part of the U.S. Military family of Heavy Tactical Wheeled Vehicles (FHTV), the Heavy Expanded Mobility Tactical Trucks (HEMTT), the M978 is a bulk liquid transporter essential to the success of armed forces daily operations. Operation and maintenance training for this sophisticated vehicle has traditionally consisted of instructor presentations and limited hands on experience with an actual HEMMT M978 tanker. With this highly interactive fueling lesson, students are trained in an immersive virtual environment and will gain critical situational awareness of the vehicle prior to potentially hazardous hands on experience.
DiSTI's services organization worked with Oshkosh to develop the advanced Fuel Module Lesson Framework, combining the implementation of interactive schematics for the Hydraulics, Electrical, and Pneumatic systems with stunning 3D graphics for the M978. The result is a life like trainer, including 15 interactive lessons covering topics on component location, schematics, pre-operation steps, filling procedures, bulk loading, recirculation, fuel dispensing, and free play mode that engage the students. This application is currently available through Oshkosh's Training Center.
"Prior to the HEMTT Virtual Trainer (VT) we conducted all of our HEMTT fueling and de-fueling tasks on the real equipment which is expensive and limited in that only one student is able to perform the tasks at a time. Incorporating the HEMTT VT allows us to train all the students in a class at the same time, saving expense and reducing the overall training time for our customers. DiSTI has produced an outstanding life like, detailed trainer that 100% emulates all the functions of the HEMTT Tanker. We are excited to add this VT as another critical part of our blended training solution," said Dan Albrecht, Senior Training Manager at Oshkosh.
"The Oshkosh Training Center has continually provided the worldwide heavy equipment industry with crewmembers well versed in the proper procedures to successfully operate and maintain these sophisticated vehicles. We were pleased to partner with Oshkosh to enhance their training for the HEMTT fueling and de-fueling procedures, increasing student throughput and decreasing significant training costs," said Joe Swinski, President of DiSTI.
About DiSTI
DiSTI is a global leader in the development of Human Machine Interface software for businesses, governments and the military. The company's flagship product, GL Studio, enables programmers and developers to build high-fidelity graphics, 3D simulations and fully interactive controls into their models, enhancing the level of realism and sophistication, while improving learning and retention.
More than 500 customers worldwide, including BAE, Boeing, Dassault, FedEx, Lockheed Martin, Honeywell, Raytheon and Thales, use DiSTI solutions to build maintenance trainers, create PC and Internet-based courseware and to develop components for safety-critical applications. As a full service provider, DiSTI offers a complement of customer programming and development services, and is the recognized leader in training solutions for the global simulation and training community. For more information, visit http://www.disti.com.
# # #